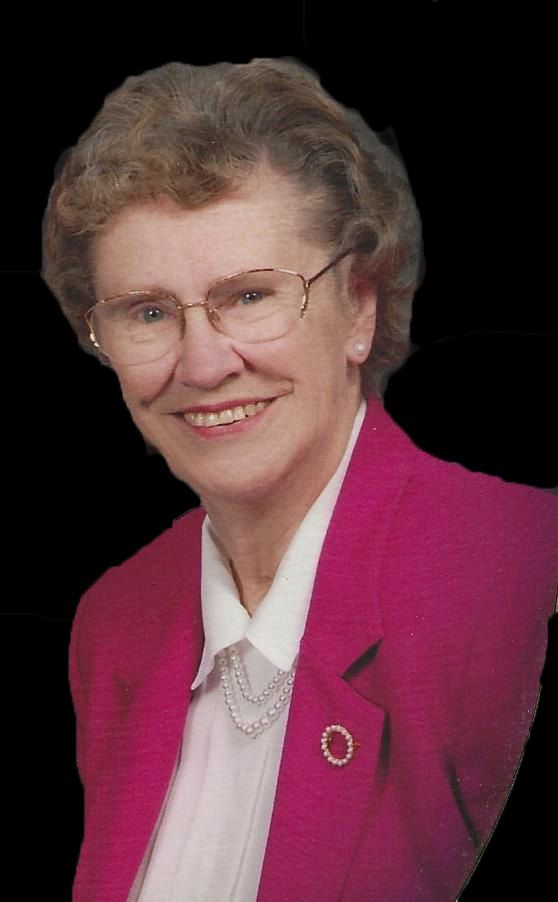 Betty Jane Hoehmann Stinson was reunited with her sweetheart and her Lord on January 18th, 2022. She was born in Lyndhurst, New Jersey on the 6th of October, 1929 to Henry Jacob and Emma Elizabeth Garrett Hoehmann.
Mother always spoke positively of her childhood and her supportive family who worked hard and did "the right thing" even when that was not easy or popular. Lyndhurst was a delightful community to grow up in with its good schools, strong church and ethnic communities, friendly and involved neighbors. She enjoyed relationships with many members of her large extended family whom she loved. Mom has always been a people person and enjoyed being involved.
She longed to go to college but appreciated that as the child of parents with only grammar school educations, her family lacked the resources to finance that dream though they had made many sacrifices to ensure that she got a great education. Her high school was on a split schedule during the war; she worked half the day at Prudential and attended school the other half so she was able to begin saving towards that goal at 15. After graduating in 1946 at 16, she went to work on Wall Street for a year to continue earning money. She found a nursing program at the University of Michigan that would allow her to work at the hospital in lieu of tuition so she worked her way through college, preparing her meals on a single hot plate in her dorm room. She graduated in 1951 as a Registered Nurse.
While there, she met a handsome young graduate student, Donald L. Stinson, at the Wesley Foundation. They were married October 11, 1951 and enjoyed nearly 68 years together as a team, each bringing their unique strengths, demonstrating the truth in the adage that the whole is greater than the sum of the parts. Their love and commitment to one another has been exemplary. It has been heart-warming and humbling to hear from those whose lives were touched by this partnership.
The story goes that Dad said he wanted a dozen kids so Mom offered to have the first 6 if he would have the next 6. Their first daughter, Ellen, was born while they were still graduate students in Ann Arbor. The following year, they moved to Bartlesville, OK where Glen, Roger, and Kathy were born. They really enjoyed their time in that small community with a wonderful church family and great neighbors. Gulf Oil offered Dad a job in Pittsburg in 1958 where Scott was born the following year. 1960 brought an invitation to Dad to join the faculty at the University of Wyoming and as Lee has always reminded us, he was the only one fortunate enough to be a native Wyomingite.
In spite of being raised "back East" near a large metropolitan area, Mother soon grew to love small town Laramie, Wyoming. They joined the First United Methodist Church and served in many capacities there over the next 60+ years. She was an enthusiastic member of the United Methodist Women and enjoyed church circle activities. On a Saturday afternoon in the fall, you would find her sitting with Dad in the faculty section at UW stadium rooting energetically for her Cowboys. She put together lovely formal receptions at her home for Dad's engineering faculty members and their wives. They were part of a couple's bridge club for years and Mom later played duplicate bridge. The Masonic Orders were dear to her heart and she particularly enjoyed her relationships in the Order of the Eastern Star where she served as Worthy Matron twice. She loved beautiful music and enjoyed singing with the church choir.
Mother was supportive of her children in their successes as well as their struggles. Many of her children's friends felt of her love and support as well. She was involved in their activities: Girl Scouts, Cub Scouts, Boy Scouts, Job's Daughters, band, choir, dance, piano, swimming, wrestling and baseball. One could often hear her cheering (or objecting) fervently in the stands. She was less enthusiastic about skiing. Every winter Saturday morning Dad would take the all the kids up to Happy Jack to ski and in spite of our encouragement, she would choose to stay home by herself. We just couldn't understand it.
Mother loved being a nurse. She worked part time at Ivinson Hospital when her children were young and over the next 50+ years, served in many capacities there including shift supervisor, Director of Nursing, member of the hospital board, and a Red Cross volunteer. She was ever ready to answer questions and provide consolation to patients and families. She also worked with a home health agency both as a nurse and as director and volunteered for decades doing blood pressures at the Senior Center and Regency.
1968 was a very difficult year in Mom's life: her son Roger was killed on his bicycle at age 12 and her daughter Ellen was diagnosed with Multiple Sclerosis at age 16. While still reeling from that tragic death, she spent the next 18 years doing everything in her power to help Ellen fight this cruel disease and wring every moment of happiness possible from her life. And when Ellen passed away, she stepped in and was mother to her daughter Elizabeth whom she has loved and supported as her own ever since. Betty was a kind and compassionate friend and a faithful daughter, providing love and support to her widowed mother for nearly 3 decades, including one period where she was the primary support for her mother, daughter, and granddaughter simultaneously.
As her RN was not a bachelor's degree, Mom embarked on a second college career later in life. She hopped on her blue bicycle and peddled up to the University to compete in the classroom with students half her age. She studied hard and did well, graduating with her bachelor's degree in 1981, receiving an award as an outstanding female graduate. Once again, we were proud and humbled.
Mom was the last surviving member of her generation of the family on both sides. Besides her two children and parents, Betty was preceded in death by her beloved husband in 2019, her sister Irene Ruth Hoehmann Roycraft and her brother Henry Garrett Hoehmann. She is survived by her sons Glen H Stinson (Mandy) of Powell, Scott H Stinson (Cheryl) of Centennial Colorado, and Lee H Stinson (Melanie) of Laramie; daughter Kathy Stinson Nicholes (David) of Salt Lake; granddaughter Elizabeth Amick Chesney (Mark) of Portland, Oregon; 11 other grandchildren, and 22 great grandchildren. She is also survived by nieces and nephews and cousins from both her and Dad's family whom she loved dearly.
Services will be held at 11:00 am on January 29th in the Wilson Hall at the United Methodist Church in Laramie, Wyoming. In lieu of flowers, a memorial has been set up in her name at Ivinson Memorial Hospital. Donations can also be made in her name to the MS Society.