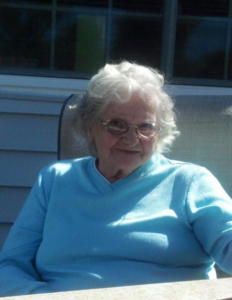 Garcile Wise Reiber, 90, of Elk Mountain died Wednesday, June 22, 2016 at Ivinson Memorial Hospital. Garcile was born on November 4, 1925 to Lulu and Perry Boday.  She entered the Navy in July 1944 and served as a nurse in Coeur d'alene, Idaho.  She met and married her first husband, Eugene Wise, a Marine there.
They settled in Dubois, Wyoming and had 3 children.  In 1955 the family moved to Elk Mountain, Wyoming where they resided for many years.
Her favorite thing in Elk Mountain was the Senior Center.  She loved the social life it provided and enjoyed the meals provided by Debbie McCartney.
She also dearly loved all her family.  She made sure her freezer was always full of ice cream bars for her multitude of grandkids.  She never forgot a birthday and made sure all the kids received a card and money from her.  She also loved to sew and write letters.
She and Joe enjoyed spending winters in Arizona and being around her family down there.
She was a favorite in her later life at the Laramie Care Center.  She was well known for her sweet personality and the smile always on her face.
Garcile was preceded in death by her first husband, Eugene Wise; her second husband, Joesph Reiber, and granddaughter, Tammy Briggs Shinkle.
She is survived by her son, Jack and Lilli Wise; son, Charles and Rhonda Wise; son, Robert and Penny Briggs; daughter, Wendy and Lonnie Briggs; 10 grandchildren; 21 great-grandchildren; and 2 great-great grandchildren.
Donations may be made to the Elk Mountain Senior Center (208 Bridge Street Elk Mountain, Wyoming 82324).
A funeral service will be held 11:00 a.m. Tuesday, June 28 at Elk Mountain Community Church with Pastor Terry Wiley officiating. Interment will follow at Elk Mountain Cemetery.