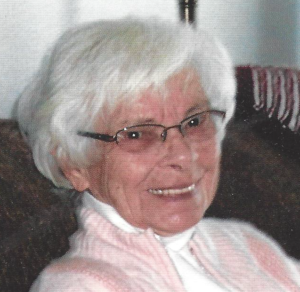 Pearl Azevedo Hare of Colorado Springs, died on October 24, 2016 at the age of 94 years.  Pearl was born in New Bedford, Massachusetts, on March 11th, 1922 to John Azevedo and Margaret (Perry) Azevedo.  Most recently she lived in Laramie, Wyoming.
She was preceded in death by her husband, Dayton Leo Hare, Jr., her son, John Dayton Hare, and her faithful canine companion Albert.
Pearl engaged in an active and busy life.  She married Dayton on January 12, 1946, leading to the life and duties of a military wife.  She worked in a variety of fields that included volunteer nursing, early childhood education, and working with her father in his restaurant in Washington. D.C.  She retired after 25 years from Ampex Electronics Corporation and continued her volunteerism well into her eighties.  Pearl was a long time member and secretary for the Gold Star Wives through Fort Carson Military Base in Colorado Springs.  In her 22 years as a military wife and subsequent military widow, she made numerous friends around the country and overseas.  Pearl's magic was in her hands.  She was affectionately known as 'the pie lady' among her close circle of friends; as a seamstress, there was no end to what she could stitch together with her machine and hands.
Pearl is survived by her daughters, Jacquelyn Ann Walker (Kenton) of Laramie, Wyoming, and Casey Lee Shelstad of Poolville, Texas; ten grandchildren, and four great grandchildren.
A memorial will be held on 2:00 p.m. Thursday, November 17th, 2016 at 6575 Oakwood Blvd., in Colorado Springs, Colorado, 80923.  Call (719) 358-5128 for directions.
In lieu of flowers, contributions may be made to Hospice of Laramie, 710 E. Garfield, #339, in Laramie, Wyoming, 82070.