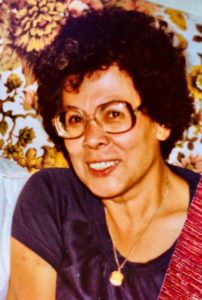 Mary Sanchez Peters died peacefully at her son's home from a short battle with cancer on Friday, March 20, 2020. Mary was born in Laramie, Wyoming, on May 29, 1933, to Jesus and Guadalupe Sanchez. The youngest of 10 children, Mary graduated from Laramie High School and went on to business school at Parks Business College in Denver, Colorado. She retired from a career as an Accounting Technician for the University of Wyoming in 1999.
Mary's loves in life were her two children Isabel Sanchez and Miguel Rosales. Mary was a real sports fan. She and her daughter, Isabel, followed several NFL and NBA teams in addition to their beloved Wyoming Cowboys.
Mary is survived by her children, Isabel Sanchez and Miguel (Shasta) Rosales and three grandchildren Dmitri, Cadel and Elena and one brother, Rome Sanchez. She is preceded in death by her husband, Clarence Peters; brothers Joe, Charles and Gilbert Sanchez and sisters Connie Rocha, Isabel Sanchez, Esperanza Miller, Hermelinda Frausto and Gloria Flores.
Funeral Liturgy will be held at 2:00 p.m. Thursday, September 7, 2023 at St. Paul's Newman Center. Inurnment will follow at Greenhill Cemetery.