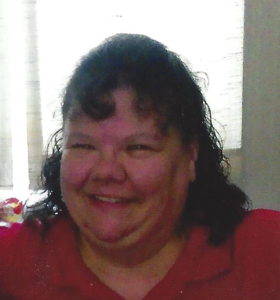 Karen Sue Wiley, 47, died Sunday May 21, 2017 at Memorial Hermann Hospice in Houston, Texas.
She was born July 19, 1969 in Laramie, Wyoming, the daughter of Ralph and Betty Joann (Dalrymple) Wiley.
Miss Wiley worked at Paradigm Geophysical Corporation as Facility Manager.  She moved to Houston from Laramie, where she grew up and which she considered home. She graduated from Laramie High School in 1986.  She attended Family Life Assembly of God Church in Katy, TX.
She is survived by her father, Ralph Wiley, of Dearing Kansas; three sisters, Pam Wiley, of Houston, TX; Beverly Wiley, of Galveston, TX; Jeannette Finley and her husband Dwayne Finley, of Spring, TX; nephew Christopher Brzovskis and his wife Megan and kids Halie Lestrer, Peyton, and Riley of Katy, TX; and many aunts, uncles and cousins.
She is preceded in death by her mother Joann Wiley; sister Connie Wiley; brother-in-law David Brzovskis; and grandparents Ralph and Mabel Wiley, John and Frances Dalrymple, and Bill and Helen Greer.
Funeral Services will be held Thursday, May 25, 2017 at 10:00 a.m. at the Montgomery-Stryker Funeral Home, the Reverend Mike Donnelly officiating.  Burial will follow in Green Hill Cemetery.
Memorials may be made to the American Cancer Society.