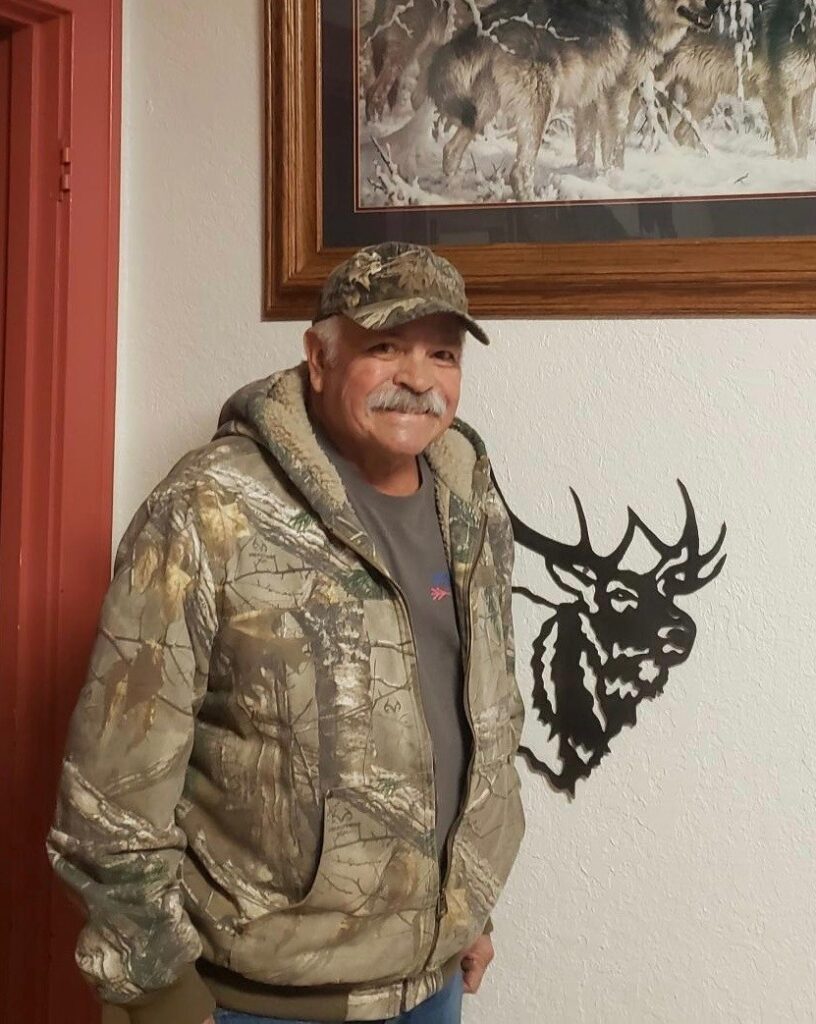 John Reynaldo Montez, 73 years old. December 11, 1949 – April 21, 2023.
The almighty god wrapped his loving arms around "John" "Johnny Ray" "Ray" Montez and carried him home on Friday, April 21, 2023. He was surrounded by his loving family when he passed away. Ray was born on December 11, 1949 in Rock Springs, WY to John Montez Jr. and Josephine (Vigil).
He was preceded in death by his parents, grandparents, and sisters, Anita Flores, Helen Martin and Gloria Tafoya. He is survived by his wife Josie of 52 years, sisters Theresa Chavez, Julia Hernandez and extended Garcia and Diaz family.
Ray's love for his horses brought him many hours of enjoyment. Ray also had a great love for the outdoors and spent many hours with a fishing pole and Smith & Wesson. He was a unique artist in his own way by creating one of a kind picture frames out of barn wood. He created small sculptures of metal, was a woodworker and loved painting everything black and gold. He enjoyed collecting crystals and rock and arrowhead hunting. Ray loved watching a good old fashioned western movie, listening to Mexican music every day and always watching WWE wrestling.
He was a wonderful, giving, and caring person. He gave from his heart anything that anyone needed. Ray was so full of life, he was always so happy and cracking jokes no matter what kind of day he was having. He enjoyed spending time with his family and friends and having breakfast with his brother during the week. Ray had a loving and generous heart and would take the shirt off his back to help others.
Ray will be remembered for his heart of gold, undying love for his family, and his infectious smile and laughter that made you feel loved and cared for. Anyone who knew him knew he was an amazing and kindhearted person. He will be missed by all that knew and loved him.
A viewing and rosary service will be held at Montgomery-Stryker Funeral Home on Friday, May 5th. Viewing from 3-5p.m. and rosary will be held at 5:30p.m.
Mass will be at St. Paul's Newman Center on Saturday, May 6th at 11:00 a.m. Luncheon to follow at St. Paul's Newman center after mass. Mass will be live streamed for those who cannot attend at newmancenter.org/funerals
Graveside services with Military Honors will be Tuesday, August 29th at the Greenhill Cemetery in Laramie, WY.
Pallbearers: Alfred Garcia, Ben Hunke, Chris Mesa, Leonard Jr. Montez, Joseph A Montez (AKA Little man), David Sanchez and Santino Vialpando.
Honorary Pallbearers: Ricky Chavez, Bruno Flores, Mario Flores, Lee Montoya, and Danny Vasquez.