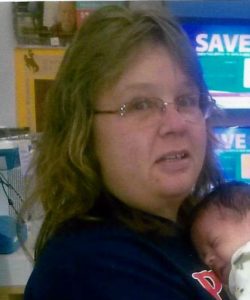 Jamie Michele Walker, 45, of Laramie, passed away Thursday morning May 11th,  in Laramie. She was born in Cheyenne, WY to Bob and Mary Hanlon Jr. September 28th, 1971.
Jamie attended and graduated from Laramie Senior High.  After school, she married Kent Walker on July 13th, 1991 and later was blessed with twin boys, Sean and Justin.
Jamie was employed by UW and Walmart for many years and then was the caregiver for her two parents.
Jamie was also a grandma and had a grandson, Tayte, which she loved very much.  She was very active with her boys and loved them more than words can say.  She also enjoyed fishing, camping, being outdoors, and was very active with cancer awareness. Jamie was a very confident, outgoing, and outspoken woman. She also had a heart of gold.
She is preceded in death by her father, Bob Hanlon Jr.
Jamie is survived by her sons, Sean and Justin Walker; her husband, Kent Walker; her grandson, Tayte;  her mother, Mary Hanlon; and her brother, Robert Hanlon III and his wife, Brenda, and her grandmother, Mary Louise Hanlon. She is also survived by her numerous in-laws, aunts, uncles, nieces and nephews.
Jamie is going to be missed very much and will leave an empty spot in our hearts.
Memorial services will be held at 2:00 p.m. Wednesday, May 17, 2017 at Montgomery-Stryker Funeral Home with the Reverend Rhett Ivey, officiating. Inurnment will follow at Harmony Cemetery.