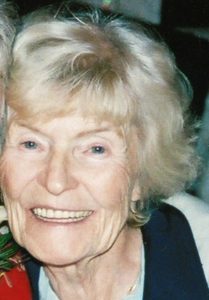 Hildegard Rosa Watson, 94, a longtime resident of Laramie died at the Hospice of Laramie on May 25, 2017.
In 1947, Hilde became engaged to Calvin M. Watson when he was stationed in Germany. They were married for 51 years.
She was a head housekeeper at the Holiday Inn for many years. An avid gardener she won many prizes at the Albany County Fairs for her flowers.
Hilde is survived by her daughter, Carla Watson-Owens and son-in-law, Matthew Owens of Chicago, nephew Knut Luettig, Germany, sister, Heidi Pallarz, Poland, nephew Michael Watson and sister-in-law, Anne Watson, both of Casper, sister-in-law, Ruth Watson, New Jersey and loving friends.
Memorials in Hildegard's name may be made to Hospice of Laramie (1754 Centennial Dr, Laramie, WY 82070), Meals on Wheels (2015 S. Greeley HWY, Cheyenne, WY 82007), or Feeding Laramie Valley (968 N. 9th St., Laramie, WY 82070).
A celebration of life/open house will be hosted by Matthew and Carla on Thursday, June 1 beginning at noon at Hilde's home.