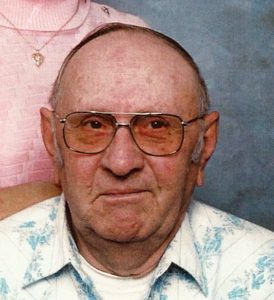 Carl W. Saunders, 88, of Laramie, passed away on June 24, 2016 at his home in Laramie.  He was born May 4, 1928 in Garden County Nebraska.  Born to William and Blanch (Botcker) Saunders.  He received his schooling in Nebraska.  Carl served in the Army during the Korean Conflict.  When he returned from Korea he met and married Dora Belle Parker on April 5, 1953 in Oshkosh, Nebraska.
Carl and his family moved from Nebraska to Laramie, WY in 1958 when he started working for the Union Pacific Railroad and worked for over 30 years.  While working on the railroad he worked in the B&B Depot.  Then he was a mechanic for the railroad and moved up to a Managers Position.  He worked until 1988 when he took retirement from the railroad.  After his retirement he worked several miscellenious jobs in the community.  He also enjoyed assisting the grandchildren with various vehicle problems.  Whenever he was invited for dinner he enjoyed dessert the most.
He was preceded in death by his wife, Dora Belle, both parents, two sisters and three brothers.
He is survived by Lynda Payne of Laramie, Kathy Peterson of Laramie, Kenneth C. Saunders and his wife, Penny of Rawlins, James O. Saunders and wife, Pamela of Las Vegas. Also surviving are grandchildren, Christopher Saunders of Laramie, Weston and Charity Payne of Craig, CO, Kenndra Payne and Nick Mills of Laramie, Michael-John and Angela Peterson of Sheridan, Laura and Craig Unrein of Hilliard, OH, Brent and Amy Peterson of Sheridan, Jennifer Saunders Griffiths of Rawlins, Sara Saunders Karstens and Shane of Rawlins, Patrick and Harley Saunders of Surprise, AZ. Carl also had 15 great grandchildren.
Funeral services will be held on Wednesday, June 29, 2016 at 11:00 a.m. at Montgomery-Stryker Funeral Home with the Reverend Rhett Ivey, officiating. Burial will follow at Greenhill Cemetery.  Pallbearers will be James Cochran, Dick Trotter, Dennis Johnson, Rich Rottman, Chuck Guthman, and Bob Bartlett. Honorary Pallbearers are his grandsons, Norm Prallie, Ray Leach and Jim Caldwell.
In lieu of flowers you may donate to the Wounded Warrior's Project, www.woundedwarrierproject.org/donate, or to a charity of your choice.