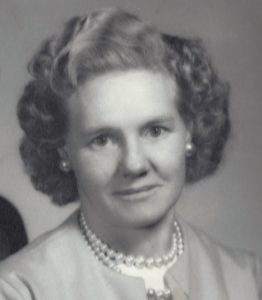 Wilma Harnden, 90, of Laramie, died Saturday, May 21, 2016 at her home. She was born December 15, 1925 in Fort Collins, CO to Carl and Katherine (Brunz) Saurs.  She grew up and received her education in Fort Collins, Colorado.  Wilma married Elmer C. Harnden on February 20, 1943 in Sedrowooly, Washington.
She is preceded in death by her husband; her parents; her son, Kenneth; and two grandchildren.
Wilma is survived by her daughter, Kathleen Davis of Laramie; her four grandchildren; her eight great grandchildren; and her two great-great grandchildren.  She is also survived by a brother, Frank Saurs and his wife, Betty of Seattle, WA; three sisters, Ena Kay Blattman of Seattle, WA; Jean Smith of Pullup, WA and Jeanette Freeze of Purdy, MO.
Funeral services will be held at 11:00 a.m. Friday, May 27, 2016 at Montgomery-Stryker Funeral Home. Burial will follow at Harmony Cemetery.