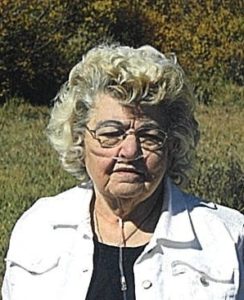 Velma Faye Nicholas, 88, of Laramie passed away at Laramie Care Center on Sunday, March 3, 2019.
Velma was born on May 2, 1930 in Beardsley, Kansas to Everest & Lois (Morton) Hamill.  She lived & attended school in Atwood, Kansas.  Velma married Wayne Kuhn on May 18, 1947, in Atwood.  They lived briefly in Loveland, Colorado before moving to Laramie in 1952 where they raised their 3 children, Johnny, Everist, & Barbara.  Wayne passed away in February, 1974.  Velma remarried W. L. Nicholas in April, 1975 & they made their home in Rock Springs & Superior, Wyoming, moving back to Laramie in 1990.  W. L. passed away in May, 1993.
Velma held various jobs through the years in Laramie including working at Laundryland, the Village Inn, & Walmart until her retirement in August, 2009.  Her jobs were always customer service related as she had a natural interest & friendship with people & wanting to help others.
She was a member of the VFW Auxiliary, Moose, Eagles, & the Rebeccas. She loved to do craftwork & crocheting & many members of her family enjoyed receiving her beautiful afghans, Christmas ornaments, etc.
Velma was so proud of her family & was always there for every important celebration she could attend.  She especially enjoyed her grandchildren & great grandchildren & they always knew that time with "Grandma Nick" meant some fun, special memories, & lots of love.
Velma is survived by her children, Johnny (Debbie) Kuhn, Everist Kuhn, & Barbara (Michael) Shingleton all in Laramie; 7 grandchildren, Codi Rieb, Jeremy Kuhn, Randy Kuhn, Michael Kuhn, Tammy Byrd, Zac Byrd, & KC Shingleton; & 15 great grandchildren.
Services will be at 3:00 p.m. Friday, March 8, 2019, at Montgomery-Stryker Funeral Home with Pastor David Grace officiating.  In lieu of flowers, memorial contributions may be made in Velma's name to the Ark Memorial Foundation, 1130 No. 3rd, Laramie, 82072 or to the charity of your choice.