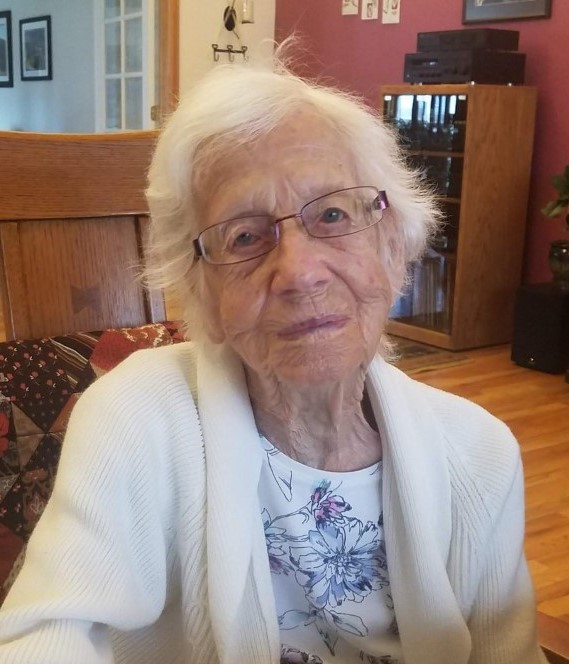 Ruthanna M. Lentz, 103, of Laramie, died Friday, December 3, 2021, at her home. She was born August 9, 1918, to William and Florence (Chilton) Noel in St. Joseph, Missouri.
She had a desire to become a teacher from a very early age. As a teenager, she played the saxophone in a dance band and the piano in church. She graduated from a state teacher's college in Northwest Missouri in 1938. She taught in Forest City, Missouri, for five years.
She married Ernest Lentz on July 6, 1940. She was one of the first married teachers to teach in Northwest Missouri. They moved to Wyoming in 1941, where Ernest went to work for the Union Pacific Railroad. Ruthanna taught at the Tie Siding country school for three years, which she loved very much.
They bought a small ranch southwest of Laramie in 1951. They had three children, Blake, Blaine, and Jane. Ruthanna was very busy working on the ranch and raising their family. She was very active in PTA while her children were in elementary school.
She and Ernest moved to Cheyenne in 1973 after the railroad terminal moved from Laramie to Cheyenne. They enjoyed traveling and hunting in their retirement years. After Ernest's death in 1990, Ruthanna became very active volunteering at the local nursing homes and assisted living facilities in Cheyenne. She gave devotionals, played music, and provided refreshments for the residents. She loved volunteering very dearly. She has always had a very deep Christian faith and loved to share it with people.
She lived through a lot of history in her 103 years of life. One of the most outstanding parts of history to her was World War II and the impact it had on people's lives.
She is preceded in death by her parents; her husband; her infant son, Ernest Jr; son, Blake; grandson Donnie Smith; and sister, Jean Wisdom.
Ruthanna is survived by her children, Blaine "Smiley" Lentz (Naomi Nottage) of Laramie, and Jane Lentz-Gonzales (Billy) of Laramie; her grandchildren, Laddie Lentz (Cortni) and Micki Wypyszinski (Pete); numerous great grandchildren, great-great grandchildren and step grandchildren; numerous nieces and nephews; and all the children she mothered over the years.
Funeral service will be 1:00 p.m. Monday, December 13, 2021, at Montgomery-Stryker Funeral Home with a visitation starting an hour prior to service. Please call the funeral home to retrieve zoom information to attend virtually. Private family burial will be at the Lentz Cemetery.
Memorial donations may be made to Hospice of Laramie.
The family would like say a special thank you to the staff at Hospice of Laramie, especially Gulla, Jenna, Matt, Chris and the Hospice volunteers.