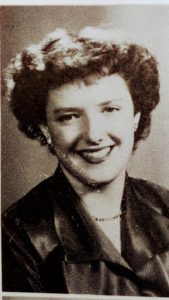 Roberta Loise Stalder passed away on Friday, 28 June, 2019, at the age of 86. Born in Denver Colorado in 1932, she moved to Laramie with her parents as a child. She graduated from Laramie High and met the love of her life, Roy (Red) Stalder, while working at the Wyo Theater, when he dropped a marques letter on her. They were married in 1951. They moved to Hopkinsville Kentucky where Red was stationed in the Army. After returning to Laramie, they had three children: Judy, Dale, and Pamela. Roberta was a homemaker until all the kids graduated from High School, she then worked at the University of Wyoming for several years before retiring. In retirement, she worked as a secretary for Laramie Lyceum for many years.
For years, Roberta and Red "migrated" to Nebraska to see the crane migration. They loved waking early to see the thousands of cranes on the Platte each March. The Stalder house remained adorned with "all things cranes" for many years. Roberta and Red raised Siamese cats for their entire adult lives. About 20 years ago, they adopted two cats, who they swore would outlive them. They didn't, so they got another pair, who preceded Roberta in death by just months. While an only child, Roberta's mom was one of 10, and that drove her to the study of genealogy, which led to many three-ring binders throughout the entire house. The formal research was preceded by years of family reunions when Roberta would instill the importance of family on her kids – a lesson that persists today. Roberta could never swim and in the 1963 while on a camping trip on the Douglas Creek, Pamela almost drowned. After that, she put all her kids in swimming lessons. She learned something as well, as she enrolled in water aerobics. She had many friends from all the years she got her husband up "at the butt crack of dawn" to go to hydrobics. Those friends, and many others who met her during her years in Laramie, remained to the end. She was proceeded in death by her husband of 65 years, who broke her heart when he died in November of 2017. Roberta leaves behind her children, many grandchildren, and great grandchildren. In lieu of flowers, donations can be made to the Laramie Animal Shelter, Hospice of Laramie, Spring Wind, or the Audubon Society.
Roberta will be missed by many people. A celebration of life is planned for 10 August 2019, at Washington Park, at 2:00, in Laramie.