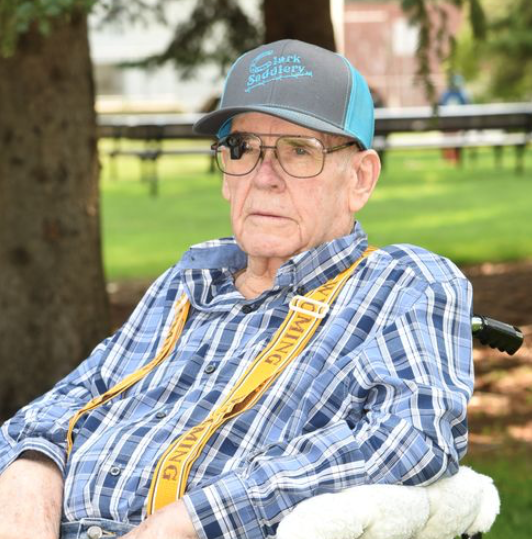 September 16, 1942-July 23, 2022
Dick passed away on the evening of July 23, 2022. Dick was the oldest of three boys born to Joseph & May Schott. He was born and raised in Laramie. He called Laramie home his whole life minus a short time in Foxpark. In 1967, he married Margo Swearingen and they raised three children, Ronda, Bill and Kim.
In his young life he would help with different ranches around the Laramie Valley for haying season. Once out of high school he worked at Brandt Logging in Foxpark, the Highway Department as a Plow driver. When he left the highway department he went to work for the City of Laramie, he started in the street and water departments, ending his 36-year career at the Landfill. He would also help at the Fairgrounds where his brother Ed managed the grounds. He loved retirement but need something more, so he decided he would drive school bus here in Laramie. His route would take him to Rock River for 7 years. He enjoyed all the kids, families and staff members that he got to know.
Dick's pastime was wood working. He would spend hours in the garage that had all the tools a woodworker could ask for. He made log beds for kids, pictures for others and fixed things for people who would ask. He would spend all day hanging out in the garage for people to just stop by and visit. One of the projects he loved most, was when he finished building an old steam engine out of wood and to watch his great grandson sit on it and play with the train horn. Dick never knew a stranger and if you needed to know something about Laramie, he would know the answer.
Family was important to him, no matter if it was the little things or the big things, every one of them was important. He would just call to see what was new.
Dick's health took a turn for the worse a little over a year ago. His health wasn't what it should be so he moved into the Laramie Care Center. He really enjoyed all of the staff that took care of him. He told his daughter, that they are good people, they have treated me well and they will be sad. They put a smile on his face everyday as he did theirs. The family would like to thank everyone of the staff members at Laramie Care Center for all their support and care that they provided to him.
Dick is proceeded in death by his wife Margo, grandson Matthew Kinsel, his parents and his younger brother Ed. He leaves behind his brother Mike (Lillian) Schott, his children, Ronda (Jerry) Jackson, Bill (Jana) Schott and Kim (Larry) Hysong, his grandchildren Faith Ann Tupper, Justin Schott, Paul Clark, Rebecca (Andrew) Harris, Shelby (Kyle) Carlson & Craig Jackson, his great-grandchildren Sara Schott, Dylan Harris and Brooklyn Harris and many other family members.
Graveside services will be held at 2:30 p.m. Friday, July 29, 2022 at Greenhill Cemetery.