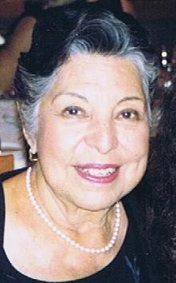 Raquel Campogiorno 95, of Seal Beach, CA, passed away on October 25, 2016 at Spring Wind Assisted Living in Laramie.
Raquel was born in Santa Ana, CA to Ernest and Guadalupe Solis on January 20, 1921.  Early in life she was an avid athlete achieving several awards in sports.  However her true love was always music and dancing. Through a mutual friend, she met the love of her life, Anthony Oresti Campogiorno. In 1944 she married her life partner and began a life of flying and traveling the world. Through Anthony's work they lived in Japan, Spain and Mexico City before returning to settle in Southern California. Together they enjoyed raising their daughter Marisa and entertaining with the many friends they had.  While Raquel was always proud to call California home, she ultimately moved to Laramie in 2007 to be close to her family.  She was so grateful to be able to share holidays together and experience watching her only grandson grow up, become married and to have a son of his own.
Raquel is preceded in death by her husband Anthony Campogiorno.
Raquel is survived by her daughter Marisa and husband Dave Reilly of Laramie, grandson Erik Shoden and wife Sarah and their son Rylan of Cheyenne. She is also survived by her niece Lillian and husband Giuseppe LaPira of San Rafael, CA and nephew Angelo and wife Mary Casserino of Lebanon, OR and all of their children.
Memorials may be given to Hospice of Laramie (710 Garfield Street #339 Laramie, Wyoming 82070) or the Home on the Range animal sanctuary (PO. Box 1674 Laramie, WY 82073).
Memorial services will be held 2:00 p.m. Thursday, November 3rd at St. Paul's Newman Center with Father Rob Spaulding officiating.   Additional services and burial will be held later in California.
The family of Raquel Campogiorno wishes to extend our sincere thanks to the care she was provided by the folks at Spring Wind Assisted Living and the wonderful and caring nurses and volunteers at Laramie Hospice.