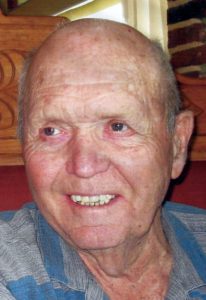 Ralph Newton Anderson passed away on April 17, 2017 at Ivinson Memorial Hospital in Laramie Wyoming.  Family and friends were able to say good-bye and he was at peace knowing he will rest until Jesus soon return.
Ralph was born on November 3, 1925 to Andy and Hazel (Frey) Anderson in Ft. Collins, Colorado and attended grade school where Horsetooth Reservoir is now located.  After high school graduation from Campion Academy in Loveland, Colorado he enlisted in the Navy and became a communications specialist.  He often told stories of his adventures in the South Seas most of which were true.
He met his future wife, Geraldine E. Morgan, at a rodeo while riding broncs in Buena Vista, Colorado.  They were married on December 5, 1948 and had four wonderful children.   The family moved to Laramie in 1965 where he began Anderson Construction, building many homes in this growing community.
He loved many of the outdoor activities that Wyoming and Laramie had to offer.   Among his favorites, floating down the Platte fly fishing, hunting in the Snowy Range and many hiking and camping trips.  He was an avid bird watcher and even after losing most of his eyesight later in life Ralph could still identify a bird just from the description. He attended the Seventh-day Adventist Church for many years and was a member of the Audubon Society.
Until late in life Ralph was very active in Alcoholics Anonymous helping whoever he could.   Always willing to listen and provide encouragement for old friends or new ones, it never mattered the age. For those who knew him or would listen he always had a story to tell.
Ralph was proceeded in death by his wife of 55 years Gerri Anderson who passed away in March of 2003. His sister, Ada Mae Price also proceeded him in death.  He is survived by his children, Stephen L. Anderson (Tracy) of Laramie, WY, David N. Anderson, (Sherry) of Laramie, WY, Sandra L. Pistono (Robert) of Cheyenne, WY and Terry M. Anderson (Colleen) of Franktown, CO.  Ralph has 7 grandchildren, 14 great grandchildren, and 4 great, great grandchildren.  He is also survived by his brother, Fred Anderson (Sandi) and many nieces and nephews.
All the Family would like to thank the great people at Spring Wind in Laramie who brought joy to him on a daily basis and of course listen to his stories.
A time of remembrance service will be held at the Seventh-day Adventist Church, 1416 Boswell Drive, Laramie on Wednesday, April 26 at 2pm and please bring a thought or story to share.   A celebration of life will be planned for family in June.  Donations in Ralph's memory can be sent to the Audubon Society.
Marantha!