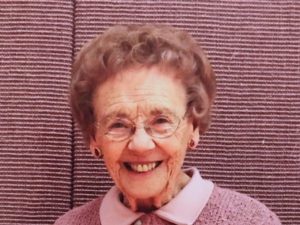 Long-time Laramie resident, Nadra Jeanne Alley, 91, beloved mother, grandmother, and great-grandmother passed peacefully at her home, on Saturday, January 20, 2018.
She was born July 10, 1926, in Montpelier, Idaho, the daughter of Lewis M. and Eva Murphy Dayton. She was the oldest of four children. Her siblings Robert Lewis, Gary David and Karen (Ivory) were always a big part of her life.  She often recalled that her best friends when young were her siblings and cousins.
On June 22, 1946, Jeanne married Harold P. Alley in Paris, Idaho. This marriage was later solemnized in the Mesa Arizona LDS Temple.  To this union were born two children: a daughter, Eva Lynette (Jensen) and a son Willis David Alley.
Her early childhood was spent in Eastern Idaho where she attended elementary school and junior high.  She attended high school in Cokeville, Wyoming, graduating in 1943, and then attended the University of Wyoming.  She relocated to California to work in a Defense Plant as a 'riveter' during WWII.  Upon her return to Wyoming, a high school friendship blossomed into a deep, lasting love with Harold who had returned from the war.  Following their marriage, they moved to Laramie so that Harold could further his education.
They made their first home after college in LaGrange, Wyoming, where Harold taught high school and coached basketball. Many cherished and lasting friendships were made during their time in LaGrange.  They returned to Laramie for Harold's graduate work and soon set down roots. They would temporarily move to Lincoln, Nebraska, (University of Nebraska) and Fort Collins, Colorado, (Colorado State University) for Harold's graduate work, but Wyoming always called them back.  Even in retirement they spent winters in Arizona, but would come back for the beautiful Laramie summers. After her husband's passing (1991), Jeanne permanently remained in Laramie.
Jeanne inherited the love of music and dancing from her talented parents who had a dance band for 50 years; she even line danced into her late 80s. She was a very accomplished seamstress, quilter, crafter, and grew beautiful African Violets. She especially enjoyed family history work – working for several years at the LDS Family History Center. She left a legacy of love to her posterity with volumes of journals and documented picture albums.  She didn't miss a day writing in her journal from the age of 16 until her health issues at almost 90 made it difficult.
Jeanne dedicated her life to her family, provident living, and service in the Church of Jesus Christ of Latter-day Saints.  Her church service included the Primary, Cub Scout Den Leader, Young Women, Building Librarian, and in Relief Society as a devoted Visiting Teacher and President.  In her limited spare time she enjoyed gardening, line dancing, and continued to support UW Football and Basketball.
She worked at the University Bookstore from 1969-84 in the bookkeeping department and carried those skills home, creating a very organized and documented household accounting system.
She was a loving grandmother and she especially enjoyed having her grandchildren come spend time with her in the summers. She always had activities planned that not only entertained them and triggered their imaginations, but also taught them many of her "well-developed" skills and talents. Her great grandchildren always knew she would have a special treat on hand for them and especially loved all the toys she saved just for them.
She is survived by her daughter Eva Lynette Jensen (Wayne) of Marlboro, New , and son Willis David Alley (Eva) of Syracuse, UT, nine grandchildren, and 23 great-grandchildren, sister Karen Dayton Ivory of Salt Lake City, UT, sisters-in-law Suzette Dayton, West Valley City, UT, and Claudine Dayton of OR, and several cherished nieces and nephews.
She was predeceased by her husband Harold P. Alley, grandson John Harold Alley, and brothers Robert Lewis and Gary David Dayton.
Funeral services will be held Saturday, January 27, 2018, 2:30pm at the Church of Jesus Christ of Latter-day Saints, 3311 Hayford Avenue, with Bishop Darren Bressler conducting.  Interment will be in Cokeville, Wyoming, Monday, January 29, 2018 at 2:30pm.
A visitation will be held Friday, January 26, 2018, 6:30 – 8:30 p.m. at the Montgomery-Stryker Funeral Home.
In lieu of flowers, memorial contributions may be made to the Harold P. Alley Scholarship in memory of Nadra Jeanne Alley in care of UW Foundation, 222 South 22nd Street, Laramie, WY, 82070.
Jeanne's family wishes to express the deepest gratitude and appreciation to her dear caregivers who became an important part of her life and family.  Gratitude is also expressed for the support and compassion of Hospice of Laramie.