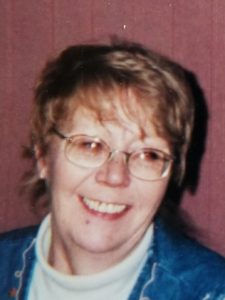 Melanie Arlene Thomas, 66, of Laramie, died Friday, January 26, 2018 at Ivinson Memorial Hospital. She was born in Winnebago, Minnesota to Richard and Delma (Kinney) Babcock on February 21, 1951.
She grew up in Minnesota later moving to Wyoming to further her education. She graduated from the University of Wyoming in 1973 and then went on to marry Dennis Thomas on November 25, 1973.
Melanie worked as the director of head start for over 30 years. She enjoyed crafting, camping, and spending time with her family especially her grandchildren, who were the light of her life.
Melanie is survived by her husband of 44 years, Dennis Thomas of Laramie; her parents, Delma Babcock of Winnebago, MN and Richard Babcock of Laramie, WY;  her daughters, Brandy Thomas of Laramie, WY and Sarah Thomas Sishc (Shawn) of Wheatland, WY; her sons, Michael Thomas (Katrina) of Loveland, CO, and Aaron Thomas (Kassandra) of Laramie; her eight grandchildren; her three great grandchildren; and her sister, Melissa Anne; and her brothers, Stephen Babcock, Linden Babcock, and Brenden Babcock.
Funeral services will be held at 10:00 a.m. Saturday, February 3, 2018 at Montgomery-Stryker Funeral Home with the Reverend Rhett Ivey, officiating. Burial will follow at Greenhill Cemetery.
Memorial contributions may be made in Melanie's name to the American Cancer Society, www.donate3.cancer.org