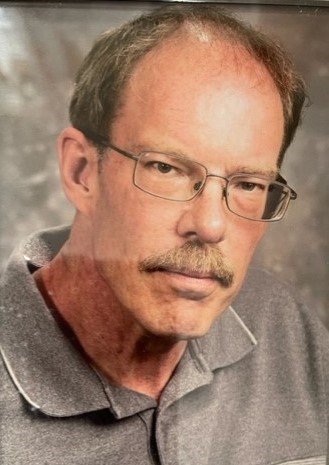 Matthew D. Sprinkle was born May 4, 1964, to R. Leo and Marilyn Sprinkle joining two older brothers. He passed away Dec. 26, 2022, due to complications of Parkinson's disease. Matt graduated from Laramie High School in 1982. He received a BA in Music in 1986, an MA in Music Theory & Composition in 1992, and an MS in Library Science in 2008. He worked for the University of Wyoming for 37 years starting at an entry level position for the American Heritage Center then becoming an Audio-Visual Archivist from 1995-2001 then working for Coe Library as a Library Specialist Electronics Resources Coordinator from 2001-Nov. 2022. He taught music classes at LCCC from 1997-2013.
Matt was a gentle soul who cared deeply for others. He played guitar in many rock and roll bands that performed around Wyoming. He enjoyed playing hacky sack with his dear friends, and sometimes his brothers, which he did for 30 years. He loved humor and as a clever wordsmith wrote blurbs of deep thoughts that, at times, turned into longer Facebook posts. He loved growing apples in his front yard and was especially proud when he achieved a great harvest. He loved magic, suduko, cryptograms, juggling and writing songs.
He was preceded in death by numerous extended family members and his Dad.
He is survived by his wife of 23 years, Rosalie, two sons, Max and Nate, brother Nelson, his wife Jill and their daughter, Melissa, brother Eric, his two sons, Isaac and Evan, plus a sister Kristen and her daughter Yi Yan.
On Friday Feb. 3, 2023, there will be a Vigil at 6 pm with a Mass given on Saturday Feb. 4, 2023, at 10 am at St. Newman's Center in Laramie Wyoming.
If you wish, please contribute to Parkinson's Research in Matt's name.