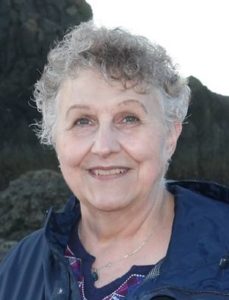 Marcia Gayle Edwards, 72, of Laramie, Wyoming passed away at home Sunday, January 27, 2019. Marcia was a Laramie native born August 22, 1946 to Wellington and Julia Edwards and graduated from Laramie High School in 1964. She worked as a secretary for the University of Wyoming for several years until retirement.
Marcia was a life long member of Beta Sigma Phi. She enjoyed bowling, knitting, and cross stitching. Marcia was an avid book reader who loved animals and her family. She was also a member of Trinity Lutheran Church.
Marcia is survived by her two loving daughters: Melanie (Roger) Cooke of Salt Lake City, UT and Rebecca (Kirt) Lyday of Hooper, UT; her brother William "Buddy" Edwards of Laramie, and sister Barbara Seaton of Cortez, CO. She is further survived by her grandchildren: William Lyday, Madelynn Lyday, Andrew Lyday, Julianna Lyday, Terrel (Carrara) Cooke, Lichelle (Jason) Gullett, and Kolten Cooke, and great-grandchild August Gullett.
A Celebration of Life will be held Saturday, August 10, 2019 at 1:00 p.m. at the Laramie Railroad Depot, 600 S. 1st St. Laramie, Wyoming.
In lieu of flowers, memorial contributions can be made in Marcia's name to either the Wounded Warrior Project, or Laramie Humane Society.