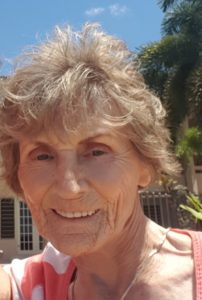 Loretta Jane Riedesel, 81, of Laramie, died Tuesday, July 31st, 2018 at Ivinson Memorial Hospital.
She was born July 21st, 1937 in Denver, CO to Sam and Edna Hayden. Loretta graduated from Laramie High School in 1955. She met the love of her life, Edward "Ted" Riedesel, they married August 21st, 1955 in a double ceremony with her sister, Elaine Hayden, marrying Harry Smith.
Loretta had many miscellaneous jobs throughout her life. She enjoyed the most and excelled at being a Homemaker. She not only mothered and cared for her own children, but for her children's friends, her grandchildren and anyone else in need. She was a woman of strong faith and attended the Church of Christ regularly. She installed her morals and her faith in her everyday life and family.
Loretta had many talents and interests including; collecting dolls, bowling, gambling, sewing, and many more. She was very family oriented. Those who had the pleasure of knowing her developed a strong love and admiration for her. She captivated people with her presence, stories, and songs (even the made-up ones).
Loretta is preceded in death by her husband Ted Riedesel, her parents Sam and Edna Hayden, siblings Maxine Collins, Lucille Younglove, and Harold Hayden.
She is survived by siblings Elaine Smith, Bob Hayden, Charlotte Hayden, Mary Kay Franklin, and Danney Hayden. Her sons Edward L. Riedesel Jr., Eric K (Pam) Riedesel, Joseph S. (Peggy) Riedesel, and Robert W. Riedesel. Grandchildren, Amanda Arias (Vincent), Eric (Kristi) Riedesel, Emily Wroblewski (Travis), Kadee Thompson (Austen), Aaron Riedesel, Colin (Sara) Riedesel, Luke Riedesel, Grace Riedesel, Ron (Steph) Swearingen, and Vance Johnson. She also had many great grandchildren, nieces, nephews, and cousins, and her sister-in-law, Molly Bridge (Jim).
A memorial service will be held at The Church of Christ (Laramie) on Wednesday, August 8th, 2018 at 11:00 a.m.
Honorary pallbearers will be Eric Riedesel, Aaron Riedesel, Colin Riedesel, Luke Riedesel, Ron Swearingen, Bennett Malody, George Hayden, Casey Bader, and Travis Wroblewski.
In lieu of flowers, memorial contributions may be made to Loretta's memorial fund care of Security First Bank, Laramie, WY.