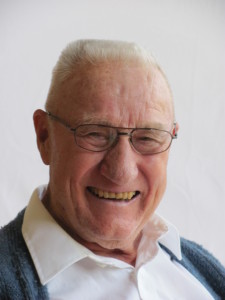 Kenny Sailors, 95, died peacefully Saturday, January 30, 2016 at Spring Wind Assisted Living in Laramie.  A deeply religious man, Kenny had looked forward to the day when he'd meet his Savior Jesus Christ in eternity.
Kenny was born January 14, 1921 on a farm near Bushnell, Nebraska, the sixth and last child of Edward and Cora (Houtz) Sailors. He was one year old when his mother and father separated.  She moved with him and his brother, Bud, to Falls City, Nebraska to live with her father. Later, they moved  to Wyoming to live with Kenny's sister and her family for a few months. In 1930 Cora purchased a farm south of Hillsdale where she raised her two sons, It was there that Kenny learned the value of hard work and coping during the Great Depression in a rural setting, often bartering farm products when cash was in short supply or completely absent.  In 1935 she sold the farm and moved the family to Laramie so Bud could attend the University of Wyoming.
Kenny entered Laramie High School as a freshman in the fall of 1935 and graduated in 1939.  It was at LHS where his athletic prowess became evident.  He was All-State in football his senior year, in basketball his junior and senior years, and state champion in the mile run and broad jump his senior year.
He joined the Marines in 1943, and n 1944 Kenny shipped out to the Pacific theater on the USS Robert E. Callan – a  troop and hospital ship which carried up to 4,000 men.  He was a 1st Lieutenant in charge of 40 Marines assigned to security. After finishing active duty, he re-enrolled at UW late in 1945 in time to play in 20 games for the  Cowboys  that season.
Kenny lived primarily in Wyoming and called it his home, but he also lived 34 years in Alaska.  He was blessed by a wonderful and influential mother and a wife, Marilynne, of 59 years.   He was an avid outdoorsman, spending many more years of his life as a guide and outfitter than playing basketball.  He was a U.S. Marine, politician, teacher, coach, and Boys' State leader in Wyoming and Alaska.  He volunteered for community service with youth wherever he lived. He loved working with kids.
Following his wife's death, Kenny returned to Laramie in 2003, fully intending to live out his life in peace and quiet and attend as many Cowboy and Cowgirl contests as he could and to see old friends.
In 2012 Kenny was selected as one the best 75 NCAA tournament players of all time, and he was inducted into the Collegiate Basketball Hall of Fame the same year.  He was named by UW to the inaugural class of its Athletics Hall of Fame in 1993. In 2005 he was selected to the University's All-Century Basketball Team. In 2008 he received the prestigious University of Wyoming Medallion Service Award. A replica of his No.4 jersey was raised in the Arena-Auditorium. A statue of Kenny shooting his famous jump shot is scheduled to be unveiled in 2017.
Kenny was preceded in death by his parents: his wife; and his two daughters Linda Money and Carrie Sailors; his sister Gladys Sailors-Smith; his triplet sisters who died as infants; and his brother Barton (Bud).
He's survived by his son, Dan (wife Jean) of Aniak, Alaska, 8 grandchildren, 12 great grandchildren, one great great grandchild, and numerous nephews and nieces, including Bud's son, Dale Sailors of Laramie.
Kenny Sailors, the "Wyoming Kid," left his impact on many as a spouse, father, teacher, coach, athlete, leader, outdoorsman, patriot, and friend.  His strongest traits were his Christian faith, his integrity, and consistency in his viewpoints, behaviors, and decisions.
Funeral services will be held at 10:00 a.m Friday, February 5th at the University of Wyoming Arena Auditorium with Pastor Thomas Lund officiating. Burial will follow at Green Hill Cemetery.  Parking will be available around the Arena Auditorium and please use the West Willett Entrance.
Memorials may be made to the American Legion Wyoming State Program, 1320 Hugur Ave. Cheyenne, WY 82001