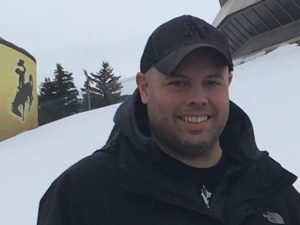 Kenneth Jason Temple, 43, of Laramie, passed away Friday, March 29, 2019 in Laramie. He was born December 25, 1975 in Lancaster, CA to Ken and Janet Temple.  He grew up in Newark, CA and graduated from Newark Memorial High School in 1994. He went on to attend the University of Wyoming and was on the Wyoming Men's Swim Team from 1994-1999.
Kenneth swam the 200 fly at the US Olympic Trials in August of 2000. He was the Laramie Swim Club's Assistant Coach and Head Coach from 2001-2009 and the Assistant Coach for Laramie High School from 2002-2008. Kenneth worked at the UW Lab School from 2005-2017 as a Special Education Paraprofessional.
He is preceded in death by his grandparents Col Kenneth Temple and Virginia Temple of Lead, SD and LaMar and Mary Ann Sedenquist of Riverside, CA; his step-grandmother, Lois Sedenquist of San Diego, CA; and his brother, Mark Temple of Richland, WA.
He is survived by his parents, Ken and Janet Temple of Newark, CA; his brother, Lt. Col Garth Ranz Temple of Ft. Worth, TX; and his sister, Angela Temple of Fremont, CA. He is also survived by his grandmother, Joyce (Grandma Joyce) Temple of Spearfish, SD; his aunts, and uncles, Robert and Barbara Temple of Sarasota, FL, Bob and Carolyn Phaneuf of Blaine, MN, and Dale Sedenquist of San Diego, CA; and his nephews, Daniel and Griffin Ranz of Newark, OH.
A Memorial Service will be held at 3:00 p.m. Saturday, May 4th at the First Christian Church (2130 E Garfield St) in Laramie at 3:00 pm.
A reception will follow the service from approximately 4 – 6 pm in the Phoenix Ballroom at the Laramie Plains Civic Center (710 E Garfield St).