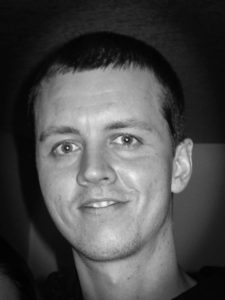 Justin Allen Lairscey, 35, of Laramie passed away November 24, 2017.
He was born May 31, 1982 in Cheyenne, Wyoming.   He grew up with a love for sports, especially soccer, basketball, and football. He graduated from Cheyenne East High School in 2000 and the University of Wyoming in 2006, with degrees in Molecular Biology, Microbiology, and a minor in Chemistry.  Following graduation, he went on to work for the Wyoming Game and Fish Department as a Forensic Scientist.  In 2009, Justin moved into the field of Raman Spectroscopy and spent the last 8 years excelling in his various professional roles, working his way up to Product Manager at Metrohm Raman.   Justin loved the various travel destinations that came with the career, especially his international visits.  Traveling the world was one of his greatest joys.
In 2010, he married his sweetheart, Kaila Kelly and together they had two beautiful daughters, Alyssa and Alexis.  Justin especially enjoyed hiking, cooking for his family, and football season.  His greatest love was spending time with his family and watching the Dallas Cowboys.
He is survived by his wife, Kaila Lairscey; two daughters Alexis and Alyssa Lairscey, all of Laramie; mother, Carol DuQuoin of Cheyenne; brother, Travis Lairscey of Ridgecrest, CA; grandmother Barbara Hayes of Florida; and numerous aunts, uncles, cousins and friends.
He is preceded in death by his father, Alan Lairscey, in 2002.
A Celebration of Life will be held at 2:00 p.m. Saturday, December 9, 2017 at Harvest Christian Church in Laramie.
Memorial contributions may be made to the Justin Allen Lairscey Memorial Fund c/o ACPE Federal Credit Union, 2835 Grand Ave, Laramie, WY 82070.