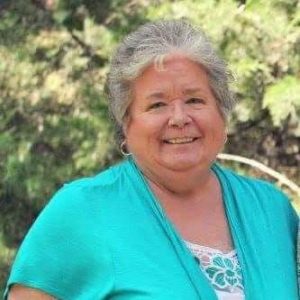 Jenny M. Marr, lifelong resident of Laramie, WY reached out her hand to her Lord on December 13, 2017. She passed away at the "Medical Center of the Rockies" in Loveland, CO after a lengthy illness.
She was born to Clinton J Marr and Edith J. Schmidt, Stiteler in Hastings, NE on December 12, 1952. She attended elementary school in Laramie and graduated from Minatare High School, Minatare, NE in 1972. She lived a short time in Culpeper, VA then returned to Laramie in 1973.
After returning to Laramie she was the ranch cook on the Miller Ranch west of Laramie for several years.  When she left the ranch she moved to Centennial where she worked for Pat Self at The Old Corral for many years. In 1989 she moved back to Laramie where she became a Wal-Mart employee. She retired from Wal-Mart in 2016.
She is preceded in death by her lifelong partner Ralph Leeds; her parents, Clinton J. Marr and Edith J. (Schmidt) Stiteler; her grandparents on her father's side, Clinton J. and Gerti (Johnson) Marr; her grandparents on her mother's side, Emil and Elizabeth (Lutkemeier) Schmidt; and her step-father, Dean Stiteler.
She is survived by her step-mother Betty Marr of Hastings, NE, two sisters Jo Ella (Tom) Ruhter of Cheyenne, WY, Wendy Marr Wells of Grand Island, NE, two brothers, Jeff Yoachim (Paula) of Bellevue, NE and Drew J Marr of Elgin, OK. One uncle, Max Marr of Loveland, CO, two aunts, Ethel (Tom) Tompkins of Scottsdale, AZ and Lulu Schmidt of Hastings, NE. She is also survived by two step-sisters Sue (Jeff) Foster of Juniata, NE, Kim (Larry) Snavely Minden, NE, two step brothers, Mark (Kim) Pfieffer Trumbull, NE and Kipp Pfieffer Hastings, NE and families. As well as two-step sisters Susie (Paul) Carey, Penny Barrow and one step brother Rick (Cheryl) Stiteler and families, all of WA state. Eight nieces and nephews; Kim (Kevin) Short, Kellie (Ryan) Harder, Samantha Beal, McKinzie Marr, Jason Ruhter, Justin (Maira) Ruhter, Brett Beal, CJ Marr and one great nieces Kara Short and many cousins and friends.
Celebration of Life will be held at 10:00 a.m. Saturday, February 17, 2018 at the Centennial Community Church in the common area with the Reverend Rhett Ivey, officiating. A reception will follow  at The Post.
Memorials contributions may be made to the family c/o Jo Ruhter, 805 E. College Dr. Cheyenne, WY 82007.