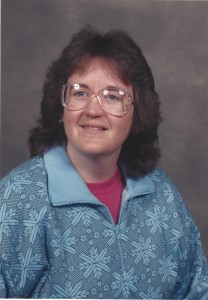 Janice L. Worster, 60, passed away peacefully at home on April, 3, 2016 after a brief battle with pancreatic cancer. Janice was born September 27, 1955 in Laramie, Wyoming to John Richard and Myrcena Mae (nee Davis) Worster.
In 1989, Janice moved to Fort Collins, Colorado and became an active member of the Resurrection Fellowship Church in Longmont and worked at Bible Superstore. She enjoyed hiking in the mountains, playing cards with family and friends and being a member on a bowling team.
In 2001, Janice returned to Laramie. She felt the Lord was bringing her back to help care for her family.
Janice worked at Wal-Mart for 15 years and provided care for her mother, eldest sister and older brother in her spare time.
She is preceded in death by her parents, sister, Anita Bartlett (Worster) and brother, Ky Richard Worster.
She is survived by her sister, Winona (Ron) Kersh and nephew, Chris (Natalie) Kersh, both of Texas and sister, Marlene Worster and niece, Myra Edwards, both of Laramie.
A memorial donation may be made to Hospice of Laramie (710 Garfield #339 Laramie, Wyoming 82070).
A memorial service will be held 10:00 a.m. Monday, April 18, 2016 at Montgomery-Stryker Funeral Home with Reverend Rhett Ivey officiating.