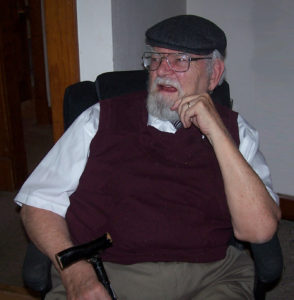 Laramie, Wyoming lost one of its most loyal advocates on Sunday, January 28.  James Francis (Jim) Hand felt Wyoming was next door to Paradise, and now he is next door. He was the unofficial Laramie Chamber of Commerce champion.  The only things that were dearer to his heart were his family and his faith.
Jim was born in Wagner, SD on August 30, 1932 to Mary (Rose) and Homer Hand.  He spent his school years in Casper and received a B.A. from the University of Wyoming.  He was honorably discharged from the U.S. Army in 1955 after serving in Korea.  He later worked as a logger in the Northwest and relocated to Los Angeles where he became Vice-President of Flight Scheduling for Western Airlines.  Missing Wyoming dearly, he returned to Laramie in 1967 to earn his Juris Doctorate.  He practiced as an attorney, drafted state legislation, and finished his career at the UW Registrar's Office.
In 1963, Jim married his soul mate and best friend, Sharon Ryan in their shared hometown of Casper. They raised seven children, living most of their 54 years together in Laramie.
Jim was an avid student of history, a lover and expert user of language, and an inventor of games and puzzles.  In 1976, he received a US Patent for his topographical puzzle "The Sword in the Stone", which has baffled many locals, and which was sold throughout the United States.  Through his game and puzzle company The Grail, Inc., he told solvers of the Sword in the Stone that they were entitled to the appellation "Himself" (or "Herself") upon providing proof of their success.  Always signing correspondence to his clue-seeking customers as "Himself", it is by this name that all his grandchildren came to know him.
In addition to his wife, he is survived by his son Manus (Angela) of Parker, Colorado, and daughters Celise (Andy) Swanson of Norfolk, Nebraska, Laura (Jay) Donahue of Newark, Delaware, and Joy (Andy) Thompson, Alanna (Laurence) Coca, Mollie Hand (Dan Fetsco), and Harmony (Tony) Savoia, all of Laramie.
"Himself" had 21 grandchildren (ranging in age from eight weeks to 28 years):  Kayla and Jameson Hand; Lauren (Dustin) Myers; Erin Swanson; Serafina and Veronica Donahue; Drew (Bre), Bailey, and Pierce Thompson; Rebecca (Jonah) Meyers; Colin Gaines; Alexis and Anabel Coca; Adelaide, Paul, and Nora Steinke; Jackson and Peter Fetsco; Preston Wittmer; Kai Horton; and our precious angel Jessica Coca who was waiting above to greet Jim.  He also had six great-grandchildren (Liam, Roady, Sylas, Jude, Zion, and Ada).
Jim left behind two brothers, Jerry Hand of Casper and Pat Hand of Cheyenne, and a sister, Frances McCarty of Denver.  He was preceded in death by his brothers Dick and Joe, and his sister, Ardis Heuer. Jim also had many nieces and nephews, including his friend and namesake Jim Heuer of Laramie.
Jim was a longtime member of St. Laurence O'Toole Catholic Church, the B.P.O. Elks, and the Laramie Kiwanis Club.
The Rosary is scheduled for 5:30 p.m. Thursday, February 1st at St. Laurence.  Funeral Mass will be held Friday, February 2nd at 11:00 a.m. followed by interment at Greenhill Cemetery and a dinner in Laramie Montessori School. In lieu of flowers, donations may be made in the name of "Himself" to a charity of your choice.