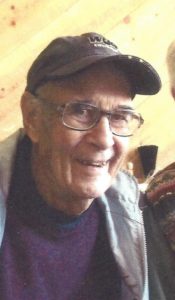 Herbert Romaine Dieterich Jr. died peacefully at home on March 31, 2019 at the age of 93.  He was born in Moberly, Missouri May 3, 1925 to parents, H.R. and Twila.  He grew up in Maryville, graduating from high school in 1943 and served in World War II in the Army from 1943-46.  After the war, he attended the University of Kansas, graduating in 1951 with a BA in Political Science and an MA in Public Administration.  He moved to Albuquerque where he worked for the Sandia Corporation.  Attending graduate school at the University of New Mexico, he earned a PhD in American Civilization and U.S. History in 1954, when he married Mary Frances ("Ricky") Christensen.  After one year at Adams State College in Alamosa, Colorado, where their son was born, they moved to Laramie in 1958.  He worked for UW in the History Department until his retirement in 1995, serving students, his fellow faculty members and the university with distinction.
He is survived by his wife, of 45 years, Sally; two daughters, Ann (Christensen) Williams of Denver and Jean Christensen and granddaughter, Masha Harmon, both of Arlington, Virginia; and his sister, Shirley Rowley, also of Denver; as well as his two nieces and their children.
He was preceded in death by his brother and his son, both named Jack.
Cremation has taken place and at his request, there will be no services.
Donations in his name will be gratefully accepted to the Albany County Public Library, the Laramie Animal Shelter, or the Downtown Clinic.