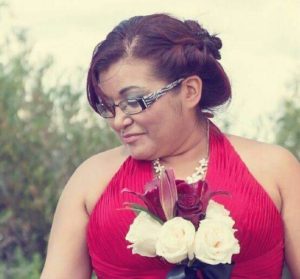 Graciela Aguiñaga, 36, of Laramie passed away Saturday, October 29, 2016.  She was born to the late Jose G. Martinez and Concepcion Alcaraz of Worland.
Gracie was born in Laredo, TX and raised and attended school in Worland.  She was currently enrolled in the Climb Wyoming program of Laramie.  Since moving to Laramie from Pinedale in June, she enjoyed attending Harvest Church with her family.
Family and friends were Gracie's passion and delight.  She loved spending time in the summer camping with family that grew into a tradition.  Gracie touched the lives of those around her with her charismatic spirit and contagious laughter.  Her kids, Cristina and Jose were her pride and joy.
Gracie is preceded in death by her father, Jose G. Martinez.
She is survived by her husband, Fabian Aguiñaga, her children, Cristina Isabel and Jose Fabian, her mother, Concepcion Alcaraz, and siblings, Miguel (Lupe) Martinez, Jesus (Ana) Martinez, Veronica (Francisco) Ramirez, Victor (Angie) Martinez, Joseph Martinez and Edward Martinez, numerous aunts and uncles, nieces and nephews and many friends.
A Memorial Service will be held at Montgomery-Stryker Funeral Home in Laramie on Thursday, November 3, 2016 at 10:00 a.m. to celebrate her life and our time with her.
Memorial donations may be made to Gracie Aguiñaga Memorial Fund at First Interstate Bank 221 Ivinson St. /P.O. Box 1307 Laramie, WY 82070.