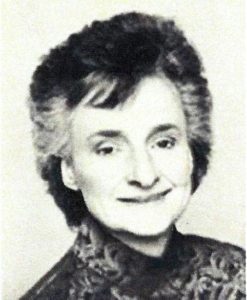 Gladys Margaret Crane, 90, died October 18, 2018, at Hospice of Laramie from complications related to Alzheimer's disease. A memorial service will be held Friday, October 26, 2018, 10:00 a.m. at Trinity Lutheran Church, 107 S. 7th Street, in Laramie.
Gladys was born August 8, 1928, near Philadelphia, Pennsylvania, to James E. and Matilda (Shelly) Crane. Following the early death of his wife, James moved the family to Washington state where Gladys and her two sisters grew up. She received a Bachelor's degree in Speech and Theater from Washington State University, taught high school and continued her education, receiving her Master's degree and eventually her Ph.D. in Theatre from Indiana University. She taught speech and theater at North Park College in Chicago, the University of Maine, and Drew University in New Jersey before accepting a position at the University of Wyoming in 1967.
Gladys's career at UW included teaching a variety of theater classes, directing numerous plays, and actively participating in state, regional, and national theater organizations. She often was asked to judge theater productions at colleges and universities in other states. Gladys's research was on the plays of George Bernard Shaw. She produced a number of Shaw publications and was held in high regard by colleagues as a Shaw scholar. After serving as department head of the Theatre and Dance Department for four years, Gladys stepped down a year before retirement from the department. Upon that retirement in 1993, she returned to school to pursue a Master's degree of Theological Studies at Garrett-Evangelical Theological Seminary at Northwestern University north of Chicago. Upon receiving that degree, Professor Crane returned to UW to teach feminist theology, drama and religion, and gender and religion.
Gladys was an active member of Trinity Lutheran Church in Laramie, serving in a variety of capacities on committees, singing in the choir, teaching Sunday School and so on. She was a member of Chapter E, P.E.O and volunteered at the Albany County Public Library. Devotion to the League of Women Voters, where she eventually served as state president, rounded out her life. Her deep religious faith, support of the feminist movement, and her marvelous sense of humor are legacies she leaves to those who knew her.
Surviving Gladys are two older sisters, Mary Ross of Madill, Oklahoma, and Jane Schmearer of Great Falls, Montana; nieces Mary Lewis (Terry), Lisa Bresnaham, Gladys McKenney (John), Kathy Farmer (Dana), nephew Mark Schmearer (Terri Ann), Cliff Ross (Marci), and several great nieces and nephews. Special friends Donna Marburger, Oliver and Sidney Walter also survive her.
Memorial gifts may be given to Trinity Lutheran Church (107 S. 7th St., 82070); the Gladys Crane Endowment in Theatre & Dance (UW Foundation, 222 S. 22nd St., 82070); or Hospice of Laramie (1754 Centennial Drive, 82070)