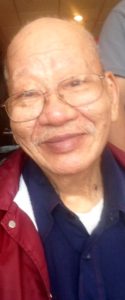 George M. Young, 90, of Laramie died Wednesday morning, April 13, 2016 at Ivinson Memorial Hospital. He was born in Guangdong, China on March 23, 1926 son of father, Leon Shim Young and mother, Lai Wan Seto. He grew up in Guangdong, and had a father who was entrepreneurial. He would open up Chinese-American restaurants in the United States.
At the young age of 10 years old, he was asked by his father to take a trip. This trip was half way around the world to Kemmerer, Wyoming! He started his education in this foreign country as a first grader at the age of 10. He did manage to get through the eighth grade before starting into school of small business and being a restauranteur with his father, brother and uncles, and later, with his wife, Soo Sun.
From age 24, he and his brothers and uncles successfully ran the Western Cafe from 1950 to 1964 in Rock Springs, WY. They introduced Chinese cuisine which was new to many and served the best American foods to locals and thousands of passengers traveling through Rock Springs on the Continental Trailways Bus Line.
George and Soo Sun decided that moving to Laramie with the University of Wyoming would provide educational opportunities for their growing family of four boys and two girls. A third girl was born in Laramie. George was one of the chefs at the Holiday Inn working through the 1980's before taking an early retirement to care of his wife.
George was a man with high integrity, indisputable work ethic, quiet, compassionate, wise and a loving father, husband, and grandfather.
George was preceded in death by his wife Soo Sun Young on August 22, 2001.
He is survived by his family, James Young and Josephine, Cheyenne, Herbert Young, Tampa, FL, Calvin Young and Denice, Laramie, Jeffrey Young and Janny, Laramie, Sheila Hecht and Jerry, Vista, CA, Yvonne Chavez and David, Vacaville, CA, Linda Saliga and Ken, Windsor, CO. Grandchildren include Christina Young, Tiffany, Taryn and Teagan Young, Eric Young, Phillip and Jeffrey Hecht, Nicole Marquardt, Traci Li Campbell, Heather Hill-Young, Christopher and Derek Saliga, in addition to five great- grandchildren.
A private family memorial service will be held Friday April 22, 2016 at Montgomery-Stryker Funeral Home. George will be laid to rest along with his wife Soo Sun at Greenhill Cemetery. In lieu of flowers, memorials may be made in the name of George M. Young to your favorite charitable organizations.
A celebration of George's life will be held this summer with close family friends and out of state family members.