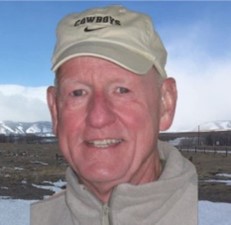 Doug Johnson died on Monday, November 1, 2021, at home from complications of strokes. He was born in Martinsburg, West Virginia on September 30,1942, to Elizabeth T. Parkinson and Roy H. Parkinson. His father was MIA in Italy during WWII and presumed deceased in 1944. Doug's mother moved the family to Salisbury, MD. She married Sanford G. Johnson and he adopted Doug and his sister, Adele. Doug grew up in Salisbury, MD during the 1950's and loved life, the beach and dancing. He enlisted in the Air Force in 1961 and served four years. After discharge from the Air Force, he attended college where he met and married Cheryl Bornt. He graduated from Delaware State College with a bachelor's degree in Parks & Recreation and one in History.
Doug and Cheryl moved to Laramie in May of 1975 where Doug began work on his master's degree in Parks and Recreation at the University of Wyoming which he completed in 1977. Cheryl and Doug had a son named, Jeremiah, who died at the age of 3 months. In 1978, they adopted a daughter from Guatemala. Doug and Cheryl divorced in 1981.
Doug obtained his bachelor's degree in secondary education from the University of Wyoming. He continued volunteering at Fort Laramie National Historic Site by helping teach a living history course. Doug worked at Cathedral Home for Children where he helped establish the on-grounds school. He then became a residence hall director of White Hall and McIntyre Hall in 1985 where he found joy in working with students and staff. In 1984, Doug and Karen met again. They had initially met in 1975 while in graduate school and became friends. They subsequently lost touch until their chance meeting. They renewed their friendship and by 1985 were falling in love.
The couple moved to Delaware and married in December of 1987. Doug had hoped to teach but was able to secure an active duty recruiting position with the Army National Guard. He worked with the Delaware Army National Guard for 7 years. Karen and Doug returned to Wyoming where Doug became a recruiter for the Wyoming Army National Guard. He was a recruiter for 14 years. His gentle demeanor and honest approach made him an incredible recruiter. He retired from the military in September of 2002. After a short leave, he began working at the University of Wyoming as a Senior Office Associate and Bookkeeper for the History Department in 2004. He retired at the age of 73 years.
Doug was preceded in death by his mother, his biological father, his adoptive father, his sister, Carol Adele Johnson, and his son, Jeremiah Johnson. He is survived by his wife of 33 years, Karen Ellen Robertson of Laramie; his niece, Carol Johnson Cain of Maryland; many friends, multiple nieces and nephews, multiple in-laws, cousins, and adopted daughter, Brenda Bornt-Johnson.
Doug was the kindest, most gentle soul and his loss will be felt by many. A Celebration of Life will be held on November 13, 2021, at 1 PM at Montgomery Stryker Funeral Home in Laramie, Wyoming.      In lieu of flowers, we would appreciate donations to the Wyoming Nature Conservancy or your favorite charity.