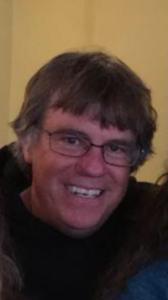 Donnie Leroy Smith, 46, passed away April 4th, 2018 near Nunn, Colorado.  Donnie was born in Laramie, Wyoming May 23rd, 1971 to Donald and Jane Smith.  He graduated from Laramie High School in 1990.  Donnie lived most of his adult life in Laramie.
He started his career in his early 20's in the oil field industry and later became a directional driller.
Donnie was an avid motorcyclist, taking many long trips on his Harley with family and friends.  He instilled a great passion for riding and racing dirt bikes in his children and grandchildren.  He loved snowmobiling, often spending winter weekends in the mountains with his family. Donnie was very mechanically inclined, a true motorhead, who thoroughly enjoyed working with his hands.  Donnie was a deeply loving and caring person. He was very devoted to his family and a great friend to many.
Donnie is preceded in death by his father; his grandparents, Leroy and Muriel Smith and Ernest Lentz; his uncle Blake Lentz; his aunt Celia Ussery; and his cousin, Daniel Silva.
Donnie is survived by his partner, Cyndil Hall; his mother, Jane and stepfather, Billy Gonzales; sisters, Micki Wypyszinski (Pete) and family, Jaimee Bridge (Craig) and family; stepsister, Diane Weller (Jordie) and family; stepbrother, David Gonzales (Jeri) and family; sons, B.J. Buckendorf (Jodi), Allen Buckendorf (Bonnie), Dominic Vigil; and daughter, Jaci Williams (Todd); grandchildren, Savanna Buckendorf, Salena Gaona, Grady, Shalynn and Tristin Buckendorf, Rachel, Tyson and Ross Montano, Clayton, Coalten, Mellary, and Kameron Williams, Caleb Bell, and Eliannah Vigil. He is also survived by his aunts, Diana Jackson (John) of Idaho, Connie Silva; uncle, Smiley Lentz; his grandmother, Ruthanna Lentz all of Laramie; and his numerous cousins, nieces, and nephews.
Services will be held at 11:30 a.m. Friday, April 13th at the First Christian Church, 2130 E Garfield St.
Visitation will be held 5:00-7:00 p.m. Thursday, April 12, 2018 at Montgomery-Stryker Funeral Home.
Memorial contributions may be made in Donnie's name to a charity of your choice.