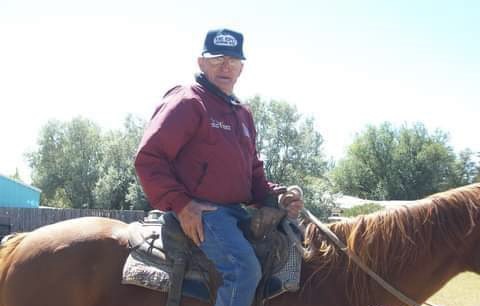 Donald Stephen "Chuck" Corley, 89, went to his ranch in the sky on May 8, 2021 after his perfect day of being a cowboy in Cheyenne, Wyoming. Chuck was born January 25, 1932 to Kenneth and Dorothy (Stiles) Corley in Sheridan, Wyoming. He was united in marriage to Ethel Harper in Sheridan, Wyoming on October 31, 1959.
Chuck was a self-made individual. He was raised by his older siblings after his parents passed away when he was a young child. He was a jack of all trades and could do anything with nothing. If Chuck could not fix it with duct tape or bailing wire, it could not be fixed.
Chuck was a hard-working man. He spent much of his career traveling, working for the University of Wyoming and Western Water Consults as a field technician. Every summer he would bring his children to work and passed along his work ethic to them. He loved his family and his job. Chuck would even bring his daughter Candy a Pepsi every day to her work. He was a humble person, who loved people and could often be found talking to anyone and everyone.
After retiring, Chuck went on to do what he loved most; being a cowboy. He would go help on his brother's ranch in Nevada. During the fall, Chuck could be found dressed up as a wolf man in his brother's corn maze, scaring the kids who went through. Although he liked to fish, he was not a fisherman because he could never stay in one spot too long.
Chuck is survived by his children; K.C (Nancy) Corley and Candy Corley; grandchildren Tatem (John), Stephanie, Joe, Suzie, and Kate; brother Jon (Paula) Corley; other family and many friends.
He was preceded in death by his parents; wife Ethel; son Randy; and his siblings Kenneth, Ray, Betty, and Rosemary.
A private family memorial service will take place. A celebration of Chuck's life will be at 12:30 Monday May 17, 2021 at the Moose Lodge 390/Chapter 423. In lieu of flowers, please bring memories to share.