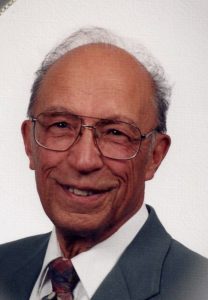 Donald L. Shipman, 92 of Laramie died Friday November 10, 2017 in Ft. Collins, Colorado.
Don was born August 4, 1925 near the family farm on Scalp Creek at Wheeler, So. Dakota, the second oldest of Elmer and Esther (Kurpgeweit) Shipman's five children.  He graduated from Fairfax High School in 1943, where he received a teaching certificate and taught school a short time at Mission before enlisting in the U.S. Army.  He was a veteran of WWII in the European Theatre, serving with Third Infantry HQ Division.  After VE Day, he volunteered for the newly established U.S. Constabulary and what was coined the Circle C Cowboys.  He was present for some of the Nuremberg Trials.  He was a trombonist in the 3rd Inf. Div. HQ band, that played for world dignitaries and for WWII American Cemetery dedications throughout Europe.
Upon his honorable discharge from the Army, he returned to Fairfax, So. Dakota and married his high school sweetheart Phyllis Walth on December 19, 1947, to which union was born two children; Connie and Randy.
They moved to Chillicothe, Missouri where he attended Business & Telegrapher School and thereafter worked in several towns in Wyoming before settling at Hanna, WY where he worked for the Union Pacific Railroad as a telegrapher, depot agent and then on to Laramie in 1967 as freight agent and later train engineer until his retirement in 1986.  No matter his circumstance, he retained a good sense of humor as was shown by his So. Dakota livestock brand of -BQ, Left Ribs Cattle.
He was a lifetime member of the VFW Hanna Post 6680, Grace Pond Chapter of Morse Telegraph Club, elected as Mayor of Hanna, served as volunteer fire fighter, 4-H leader, and several terms on the Hanna/Elk Mountain School Board as well as a member of the Union Pacific Railroad Old Timers Club.  He was a founding member of the Lutheran Church when the Hanna State Bank was converted into a place of worship and current member of Zion Lutheran Church of Laramie at the time of his death.  Don celebrated 69 years of marriage with Phyllis.
He was preceded in death by his parents, a daughter Connie Burnside; brothers Eugene, Ervin and Norman.
He is survived by his wife Phyllis, a sister Maxine, son Randy (Anne-Marie) of Rock Springs, a son-in-law Mal Burnside of Cheyenne, five grandchildren; Levi Burnside (Danielle) of Cheyenne, WY; Sarah Iversen (Derek of Commerce City, CO; Shane Shipman (Jonquil) of Grant, MN; Michelle Babcock (Brock) of Lawrence, KS; and Lisa Eyre (Ken) of Portland, OR.  Also surviving are eight great grandchildren and numerous nieces and nephews.
Cremation has taken place and memorial services will be held Thursday, November 16 at 11:00 a.m. at Zion Lutheran Church with Pastor Darrell Debowey officiating.  Inurnment will be held Thursday November 16 at 10:30 a.m. at Green Hill Cemetery with military rites by the Wyoming National Guard and the Laramie Veterans Honor Guard.  Memorial in his memory may be made to a charity of ones' choice.