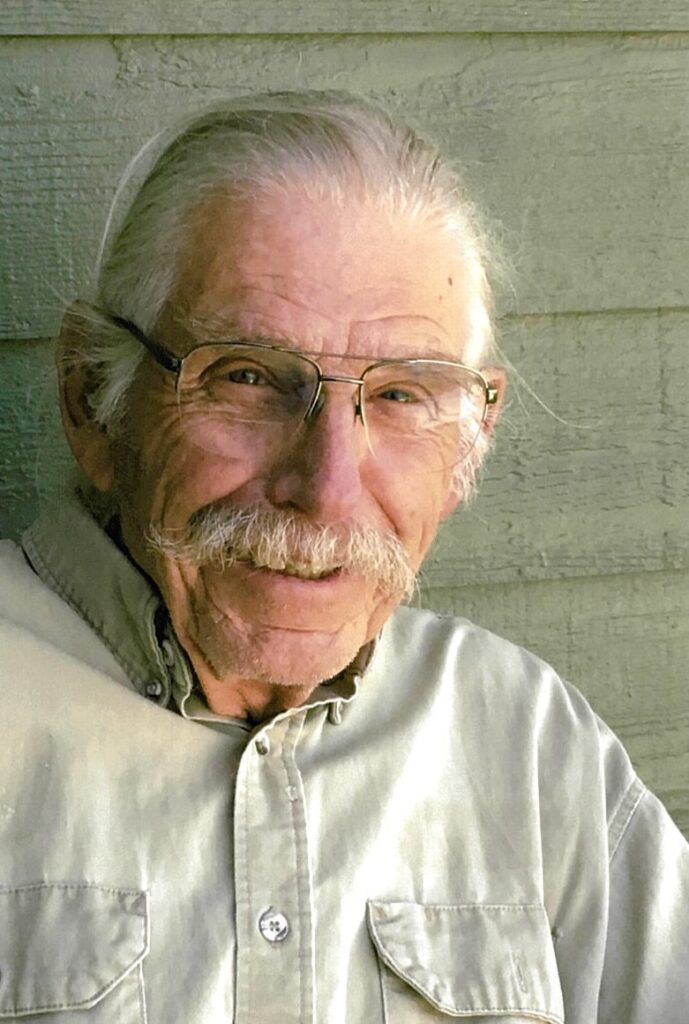 John Bernard Lund, PE, family man, University of Wyoming Graduate (BS,CE), Architect and Civil Engineer for JT Banner and Associates, US Army and National Guard Veteran, Pioneering Mountaineer, and in later life, Archaeological Team Specialist, passed peacefully on April 25, 2023 in comfort care at the Cottonwood facility in Laramie with both of his surviving daughter, Dawn Rose Lund and son, Aaron Vance Lund attending at bedside. John is survived by his former wife and mother of their children, Helen Lancaster Dixon (divorced) and by John's later significant partner, Kathy Boyd Rochedieu.
John Lund was born September 1, 1930 in Denver to Carl S and Josephine (Frank) Lund. John and his sister, Joanie (1932-2015) attended schools across the State of Wyoming as their father installed the first telephone lines across much of the State. John and his sister made friends in towns too numerous to mention here, including memorable years in Rock Springs, Story, Cody, and Lusk, to name only a few. For a few months, John and his sister were two of the five children attending grade school in South Pass City as the first telephone line was placed by their father's crew from Lander to Farson. The Lunds were Episcopalians. John often recounted their family's humanitarian activities for the church while living in Cody during the Second World War. They delivered gifts of food to the detained families at the Heart Mountain Japanese Internment Center. John described how he was moved by the spirit of these people who fashioned colorful kites from donated materials to fly in the Wyoming wind during their confinement.
While attending the University of Wyoming, in his free time John became a key member of the University Outing Club and led adventures in Vedauwoo and the Snowy Range – hiking, fishing, and climbing throughout the summer months and cross-country skiing in the winter. Later, as an alum, John remained active with the Outing Club and organized expeditions for many students, one of his final trips being in 1990. John was an avid canoeist as well, especially fond of the North Platte and Snake rivers.
In his youthful and active 20s, John documented multiple rock climbing first ascents at Vedauwoo, including The Heap (with Tom Humphrey and Vern Anderson) on Oct 9, 1953, Hassler's Hatbox in 1954, Holdout (with Walt Sticker) and Nautilus Southwest End (Lund and party) both on April 11, 1954, and one of the least climbed routes "Curry's Corner" (with Don Currey) on March 4, 1957. Trail notes can be found on Upper Blair – Vedauwoo, a climbers' blog managed by Skip Harper. "John's Furlough" is a 1952 route John led up Medicine Bow Peak in the Snowy Range while on leave during his stint in the US Army mentioned in "The Guide To the Wyoming Mountains & Wilderness Areas" (1960) by Orrin H. & Lorraine Bonney.
A lifelong mountaineer and adventurer, other successful climbs liclude: Devils Tower, Grand Teton, Shiprock (NM) and 16,000' Mount Popocatepetl, Mexico. John submitted numerous 14ers in Colorado. He also trekked in the Arizona deserts, throughout the Canyonlands, Death Valley, the Big Island of Hawaii, Scotland, and along the Moscow River in Russia.
Professionally, John took his degree in Civil Engineering in 1952 and then completed a year of military service before returning to Laramie to work for JT Banner and Associates in which his design talents led to him serving as both architect and civil engineer on numerous projects.
Following a successful career in civil engineering, John became involved with his passion for archaeology. These activities included further study and university work in Wyoming and Arizona, with projects and expeditions throughout the Rocky Mountains and Desert Southwest. Into his 80s, John made significant contributions to the work of noted North and Meso-American Archeologist, Dr. Richard "Dick" Adams and team during several years of high elevation field work on the Mountain Shoshone villages in the Wind River Mountains. His innate sense of survival in the mountains, coupled with his ability to render excellent drawings of artifacts found and villages located, led to him being cited as one of the co-authors on multiple articles and publications documenting the research and their important findings.
John also embarked upon a self-actualilzing spiritual journey in his early 50s which focused on living a mentally and physically healthy life. He avoided all forms of alcohol and most sugars, ate simple, clean food, learned Tai Chi, studied Buddhism, and had a strong connection to the natural world as well as to his lifelong friends whom he counted as his greatest gifts. In keeping with his convictions, in the 1980s John became a board member of the Southeast Wyoming Mental Health Association and peer counselor to those seeking sobriety, and was the President of the local Travelle Chapter of the Izaak Walton League in the early 1980s. The League, established in 1929, was a very early conservation group focused on clean water. Their mission was significant enough to John that became a "Life Benefactor" member of the national organization.
John lived an active retirement in Saratoga, Wyoming for much of the 2000's. While serving as a board member of the Saratoga Cemetery District, he designed and engineered the Valley Chapel, located within the cemetery. He took a permanent position with the National Forest Service as an archaeology surveyor, hiked, fished, and was known as a regular in Saratoga's "Hobo" hot springs pool. As he aged, people he had taught mountaineering skills many years earlier reappeared in his life and accompanied him into the high mountains and home again.
In his final few years, John returned to the log house he had bought in West Laramie as a new father and lived well in the loving care of his daughter and loyal companionship of his dog Millie. John, Dawn and Millie were often joined by other family members and friends during their daily walks along the Laramie River where he collected interesting rocks and watched carefully for archeaological artifacts.
John's earthly remains have been cremated, a memorial service is in planning, tentatively scheduled in August in Saratoga, Wyoming. Details will be provided as preparations are finalized.