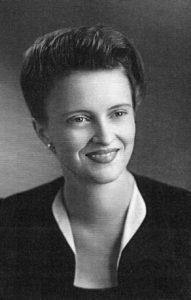 Mary E. 'Betty' Ayres, 92, went to be with the Lord, surrounded by her family, on Thursday, May 11, 2017, under the care of Hospice of Laramie.
She was born October 5, 1924 in Wasta, SD to Ralph and Grace (née Hornig) Hayes. She grew up on a ranch outside of Wasta with her parents and five siblings.
She is survived by her four children, Peggy Young, (Steve), Doug Ayres, Janet Timmerman (Duane), and Myrna McPeak (Joe); nine grandchildren and thirteen great grandchildren.
She is preceded in death by her husband, one grandson, her parents and her five siblings.
Betty's family appreciates the care provided by Hospice of Laramie and requests in lieu of flowers, memorial contributions be made to Hospice of Laramie, 1754 Centennial Drive, Laramie, WY, 82070.
The family will have a private "Celebration of Life" at a later date.