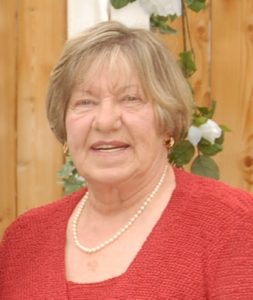 Wilma Elaine Shoefelt, 78, of Laramie, passed away, Wednesday, June 22, 2016 at Ivinson Memorial Hospital.
Wilma was born October 20, 1937 in Laramie to Robert and Edwina (Pearson) Cairns. She graduated from Laramie High School in 1955. She married Don Shoefelt on June 9, 1956 in Laramie. After a brief stay in Rock Springs and Basin, she and her husband returned to Laramie where she remained for the rest of her life.
She worked for the University of Wyoming for many years before retiring in 1995. Wilma enjoyed her family and dog, camping, being a grandmother and gardening.
She is preceded in death by her parents, one brother and her youngest son, Curtis.
Wilma is survived by her husband, Don Shoefelt, of Laramie; children, Roger Shoefelt and his wife Kathy and Mike Shoefelt and his wife Debbie, both of Laramie; four grandchildren and five great-grandchildren.
Donations may be made to the Laramie Animal Shelter (1064 North 5th Street Laramie, Wyoming 82072).
A private family service will be held.