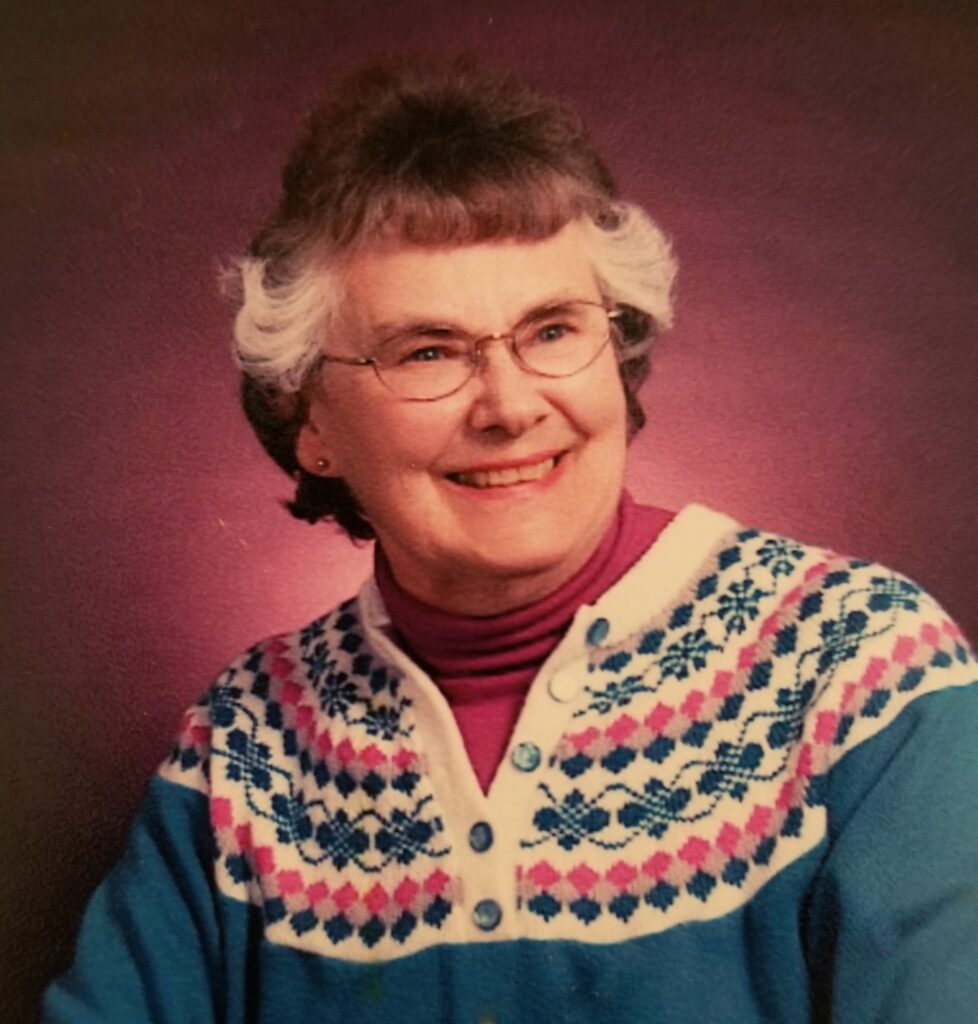 It is with great sadness that we announce the passing of our beloved mother and grandmother Virginia Mary (McGlothlen) Kersting on August 24, 2023 in Laramie, Wyoming at the age of 91.
Virginia was born to E. Kenneth and Virginia (Harrison) McGlothlen on October 10, 1931 in Denver, Colorado. She was raised by her grandmother Mary Harrison alongside her older sister, Marie and younger sister, Kathryn – memories she always recalled with a fond smile and giggles. Grandmother Mary celebrated Virginia's birthday on October 9, and due to this mix up, Mom continued to celebrate it on that date into her sixties. Once we discovered it was actually October 10, Mom insisted that we celebrate both days – fitting for a lady like her to have two birthdays!
As a child, she would travel by bus to Laramie in the summer to visit her father and her stepmother, Genevieve. She was playing in rainwater when she met the love of her life, Leo Edward Kersting, around the age of ten. After the death of his parents Dad left the Marines and married Mom on December 9, 1953 in Denver at Cathedral Basilica of the Immaculate Conception. Together they raised his younger brothers, Ted, Jack, and Gary. They went on to have six more children together, James, Barbara, William, Thomas, Mary Ann, and Daniel. Mom liked to say about the six youngest kids, "God gave me a six pack, a variety pack." In addition to raising all those kids, she was called "Mom" by a lot of her children's friends.
Mom volunteered at St. Laurence O'Toole School where she helped students improve their reading skills and served as a room mother. She was a big part of our 4-H and FFA years. Mom enjoyed her years of leading the swim exercises for the Eppson Center, singing with the Melodees, and her travels with The Heritage Club. She especially enjoyed the numerous adventures with her friend, Sherri Rodriguez.
Virginia was preceded in death by her mother and father; grandmother Mary; stepmother Genevieve; husband Leo; sisters Marie (Dave) Conway and Kathryn Sandhoff; sons Eddie and Tom; brothers-in-law Ted, Jack, and Gary; sister-in-law Gay Kersting; and son-in-law Skip Serrell.
Virginia is survived by her sons Jim, Bill (Jerri Burrowes) and Boone Kersting all of Laramie, her daughters Barbara Kersting of Cody, WY and Mary Serrell of Castle Rock, CO, her grandchildren Ed and Rachel Serrell, her sister-in-law Marilyn Kersting, Ashley Koch, and her many nieces and nephews.
We are grateful for all the years we had with Mom. Go rest High on that Mountain, Mom, your work on Earth is done.
In lieu of flowers, please consider donating to Hospice of Laramie 1754 Centennial Drive Laramie, WY 82072.
Funeral Liturgy will be held at 11:00 a.m. Monday, September 18, 2023 at St. Laurence O'Toole Catholic Church.