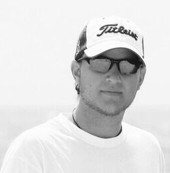 Tobey Hunt Morgan went to heaven to be with the Lord on June 11, 2016.  Tobey was born in Laramie, Wyoming on October 7, 1985 to Rock Morgan and Alicia Tobey Morgan.
Tobey's life might seem too short to many, but those who were touched by him understood that the quality of existence far exceeds the quantity of time in which one lives.
Tobey had a love for life and sports.  He grew up playing baseball.  His team won state in 1998 and went on to play in the Little League Regional World Series in San Bernardino, California.  The team won state two years later and went on to play in the Junior Babe Ruth regional tournament in The Dalles, Oregon.  Tobey was not only an avid baseball player but also played on the Laramie High School basketball team.  Tobey graduated from high school in 2004 and continued on to Northeastern Junior College and the University of Wyoming.
For those that knew Tobey knew that he had a kind heart and fun-loving personality.  You could always count on Tobey as a supportive friend and for his unconditional love.
Tobey is survived by his girlfriend Carrie Payne, mother –  Alicia Tobey Morgan,  father –  Rock Morgan, sisters – Brandee Herrera and Ashlee Martindale (Curtis), brother – Jeremy Johnston (Rachel) , niece – Payton Giehm, nephew – Lawson Herrera, nephew – Harley Johnston, niece – Jaycee Johnston, niece – Morgan Martindale  and grandmother – June Kilkenny, along with many other aunts, uncles, cousins and relatives.
He was proceeded in death by his grandmother, Ann Shaw, Tobey, grandfathers Roger "Gene" Tobey, John Morgan, and John Hunt.  Aunts – Linda Tobey, Sheryl Glover and Lynda Morgan, and Cousin Thomas Glover and Ward Tobey.
Services to celebrate Tobey's life will be held on Wednesday, June 15th at 2:00 p.m. at the Wildcatter Suites at the University of Wyoming with a reception following.
Memorials may be made to the Tobey Morgan Memorial Fund at the UniWyo Federal Credit Union, 2020 Grand Ave, 1610 Reynolds, or at UW Campus Branch/McWhinnie Hall or at the Service Desk in the University Service Building.