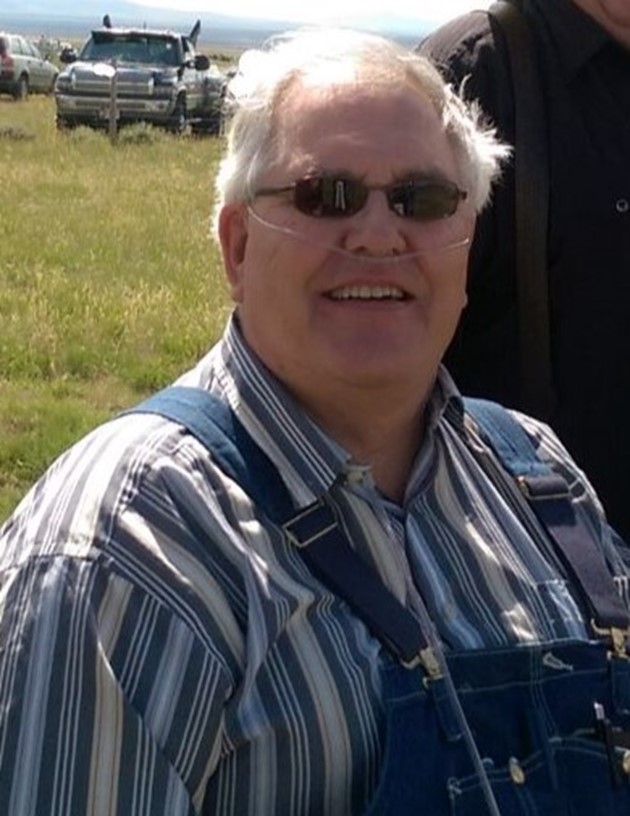 Taylor "Toby" Baxter Smith lll, 79, of Medicine Bow passed away peacefully at home on November 2, 2023, after several years of fighting poor health.
Toby was the first of four children born to Taylor "Curly" Baxter, Jr. and Ellen Rose (Smith) Smith on June 21, 1944. He grew up in various places within Albany, Carbon, and Johnson counties, including the Middle Creek Ranch, Johnson Ranch, Kyle, Kaycee, Barnum, Spade Ranch, and Robbers Roost Ranch. Toby attended school in Medicine Bow, graduating in 1962. In November 1962, he married Sharry Ann Heward and later divorced after having two daughters, Keri Sue and Berlina Ellen.
Toby's first job was working in the hayfields for $150 a month. His working career included working at Utah International Uranium Mine in Shirley Basin, Wyoming, the iron ore mine located at Iron Mountain, Wyoming, and Rosebud Coal Mine in Hanna, Wyoming, as well as the Wyoming Department of Transportation (WYDOT) driving snowplow and doing highway maintenance in Medicine Bow. He leased his own semi tractor and for a time was a long-haul truck driver. He also worked for several construction companies during his career. In 1990, he graduated from Cheyenne Aero Tech with his Airframe and Power plant license and went on to work as an aircraft mechanic for various aviation companies which took him to Cheyenne, WY, Saipan, Farmington, NM, Spencer, IA, St. George, UT, and Bakersfield, Fresno, and Oakland in California. In 2007, Toby joined his brother, Cliff, delivering new and used ambulances across the United States for Apgar Ambulance, something that he enjoyed doing and was considered a road ambulance warrior and a driving machine.
Toby had many interests, which consisted of traveling, tinkering, reading westerns and historical novels, taking part in Medicine Bow Senior Center activities, especially meals, dominoes, and Wednesday Men's Donut Day. In his younger years, he was a scout leader of Boy Scout Troop #148. He was an accomplished builder and on occasion milled his own lumber to build a solarium, basement, and breezeway, among other construction projects. Toby served as a city council member for the Town of Medicine Bow. He was a member of various boards for the town and Carbon County, including serving on the High Country Joint Powers Board to determine how to take care of waste from Medicine Bow, Hanna, and Elk Mountain when the Hanna landfill closed. For a period, he drove the Medicine Bow senior van taking other seniors who no longer wanted to drive the road between Medicine Bow and Laramie, Ft. Collins, and Denver to their medical appointments, grocery shopping and other businesses. Toby loved and cared for his community and was considered a community legend. Toby was a Master Mason for forty-nine years. He held the position of secretary from 2010 through 2016 at the Masonic Hanna Lodge #50 until its consolidation with the Masonic Laramie Lodge #3 AF & AM. Toby was a private pilot for many years and a member of the Aircraft Owners and Pilots Association (AOPA). His family, friends and community will miss his stories, historical perspective, sense of humor, smile, his kind and friendly demeanor, mischievous grin, his advice on how to fix things, his dedication to his community, and his selfless willingness to help anyone. Toby was a big man with an even bigger heart.
Toby was preceded in death by his parents and his beloved kitty Squeaky. He is survived by his longtime companion, Alice Clark of Medicine Bow, brothers Leonard (Marcy) of Drasco, AR and Clifford (Ginny) of Cheyenne, WY, and sister Amelia (Mike) Reid of Richmond, TX. He is also survived by his former wife Sharry Ann (Heward, Smith) Robinson, their two daughters, Keri Sue (Isaac) Frausto of Ft. Collins, CO, and Berlina Ellen (Ron) Burris of Kemmerer, WY. He leaves behind two granddaughters, Nataleigh (Reyes) Nieto of Loveland, CO and Carmen Frausto of Ft. Collins, CO, and grandsons Caleb (Stefanie) Frausto of Patterson, NY, and Kassidy Oltmanns of Elko, NV. Two great-granddaughters, Dezarey Nieto and Reyleigh Nieto and five nieces (sorry – no nephews).
In lieu of flowers, memorial donations may be given to the Medicine Bow Senior Center, Medicine Bow Public Library, or a charity of the donor's choice.
Memorial services will be in the summer of 2024, with interment at Middle Creek Ranch Memorial Cemetery in Bosler, Wyoming, the family cemetery.
Services and cremation are under the care of Montgomery-Stryker Funeral Home. Please go to their website http://montgomerystryker.com for a full obituary and to sign the guest book.