Sripaiwan (Oot) T. Mack, 76, of Laramie passed away on Tuesday, June 26, 2018 at her home. She was born in Nakhon Ratchasima (Korat), Thailand.
Oot marr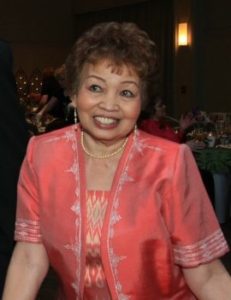 ied Don Mack in 1971 in Sattahip, Thailand while he was assigned in the United States Army. She immigrated to the United States with her husband in 1972, and has resided in Laramie, WY since 1974. She became a Naturalized American Citizen in 1978. Oot married Stan Haley in October 2007 and spent their last ten golden years traveling between Laramie and Thailand for months at a time enjoying family on two different continents.
Oot held many food service positions starting at the Holiday Inn, Dr. Frinfrock's Restaurant in Downtown Laramie, and finished off her career at the University of Wyoming Food Service Department; retiring in the late 1990s.
Oot enjoyed spending time with her family and friends. She was a dedicated and loving wife and mother and was extremely proud to be a grandmother. Oot was an avid gardener and people would always stop to admire her flowers in the front yard. She befriended many women while enjoying their many BINGO ventures.
She is preceded in death by her parents and two sisters in Thailand. She is survived by her husband, Stan Haley of Laramie; her two sons, George Mack of Laramie and Geoffrey Mack (Jennifer) of Lakeland, TN; four grandchildren, Logan and Owen Mack of Charlestown, SC and Grayson and Lydia Mack of Lakeland, TN; her extended family here in the United States, Anna Haley Ansell (Arlen) of Louisville, KY and Tommy Haley (Lacy) of Indianapolis, IN and six grandkids.
Additionally, in Thailand she is survived by her sister, Yupa (Ja) Intasian, four daughters, one son, one step-daughter and numerous grandchildren, nephews and nieces throughout Thailand.
A memorial service will be held on Friday, July 20, 2018 at 3:00pm at Montgomery-Stryker Funeral Home, 2133 Rainbow Avenue in Laramie.
Final internment will be in her birthplace of Korat, Thailand according to the Buddhist ritual later in the year.
Memorial contributions may be made to the Meredith & Jeannie Ray Cancer Center, 255 N. 30th St., Laramie, WY 82070 and to Hospice of Laramie, 1754 Centennial Dr., Laramie, WY 82070.
Arrangements are under the direction of Montgomery-Stryker Funeral Home.  To send condolences or to sign the online guestbook, please go to www.montgomerystryker.com