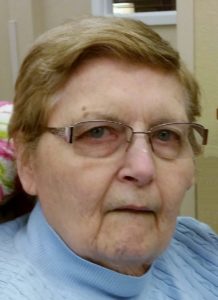 V. Shiral Farnham, 80, passed away on March 21, 2017 at Seven Lakes Memory Care in Loveland, Colorado, from complications of Alzheimer's. She was born on July 20, 1936 in Sioux Falls, South Dakota to Albert and Shirley (Green) Thinglum.
Shiral grew up in eastern South Dakota, attending 10 different schools by the fourth grade. When she was 10 her parents opened a gas station/grocery store, which she worked at from the day it opened.  She graduated from Beresford High School in Beresford, South Dakota in 1954 and was the class valedictorian. After high school she attended Augustana College in Sioux Falls.  She transferred to the University of Wyoming for her senior year and graduated in 1958 with her Bachelor of Arts.
Shiral was a contracting officer for the U.S. Forest Service and retired after nearly 30 years.  She was recognized many times for her dedication and above and beyond work ethic.  Shiral loved working with her "many characters" on the Medicine Bow Forest.
Shiral was a Past Matron of Snowy Range Chapter #45, Order of the Eastern Star.  She made many friends over the years and traveled many miles with her "Star" family.  She was also a dedicated member of the Laramie Church of Christ.  Shiral loved reading, and always carried a book with her just in case she had some extra time.
Shiral is survived by her sons Larry, of Laramie and Jay (Cheryl), of University Place, Washington and daughter Sheralyn, of Laramie; her granddaughters Emily Farnham and Kate Farnham, of University Place, Washington; and her sister Norma Jean Vanderlinden of Anaheim, California.
A funeral service will be at 10 a.m. Saturday, March 25, 2017, at the Church of Christ, 720 Regency Drive, with Pastor Mike Schneider officiating. Visitation will be from 9 a.m. until service time Saturday at the church. Burial will follow at Greenhill Cemetery.
A reception will follow at the Masonic Lodge, 401 Ivinson St, hosted by the members of Snowy Range Chapter #45.
Memorial contributions can be made to the Alzheimer's Association and/or to Hospice of Laramie.