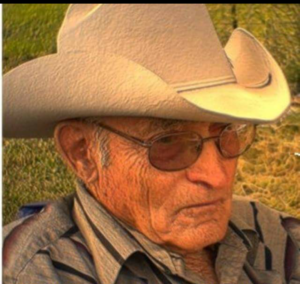 Robert Jean Sims of Medicine Bow, passed away on March 28, 2017.  He was born in Evanston on September 16, 1933, to Walter and Rosie (Shaw) Sims.  He was only 4 when his mother passed away.  He was raised by his stepmother Cleo Sims and his aunt & uncle Arthur & June Sims.
He attended schools in Evanston, leaving after the 8th grade to work as a sheepherder in the area. His loyalty, honor and pride lead him to enlist in the United States Air Force in 1952, and served during the Korean War. Trained as a Carpenter, he was stationed in Newfoundland and ended his 4 year service at Larson Air Force Base in Moses Lake Washington with an Honorable Discharge in 1956.  He received the National Defense Service Medal and Good Conduct Medal during that time.
Married his wife Patzy R. Anson of Lyman in 1957, of which 6 children were born to this union.  He had many jobs throughout his lifetime but ranching was his love.  Whether it was calving or haying he worked until the job was done.  Time spent camping & hunting with family & friends were treasured times. Honesty & a handshake meant more than a contract to him.  You never seen him without his Stetson Silverbelly or a dog by his side.
Robert is survived by his children Ginger (Mark) Boisvert, Robi (Mark) Spear, Shelly (Bradley) Richardson, Richard (Ann) Sims, Russ (Lisa) Sims, Casey (Jennifer) Sims.  Sisters Linda Hollingshead, Cheryl Vaughn, Susan Mulhall, Lorri Guild, 12 grandchildren & 9 great grandchildren.  He is preceded in death by his wife, parents, sister Beverly Higley, brother Richard Sims, and grandson Daniel Sims.
Services will be held at Medicine Bow Community Center, Thursday April 6th, 2017 at 2:30PM, with a celebration of life following at the same location.  Burial will be at Evanston Cemetery, Evanston, Wyoming at a later date.