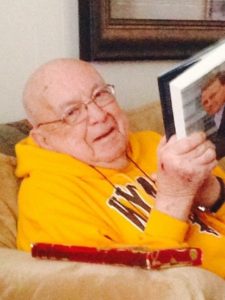 Robert (Bob, Sonny) H. Reese, 91, of Laramie, Wyoming passed away April 14, 2017. Bob was born December 22, 1925 in Hanna, Wyoming where he was raised by his grandmother Maggie Reese. Bob was a WWII veteran who served in the U.S. Army First Cavalry Division (First Team!) from October 1944 to January 1947 in the Asiatic Pacific campaign. During this time he was chosen to serve as an honor guard at the signing of the peace treaty with Japan. He married Beverly Sawyer January 12, 1946 in Denver, Colorado. He was a forever fan of the Chicago Cubs and big band music. Bob never met a stranger and was known and loved for his quick wit and sense of humor.
Bob is remembered for all his hard work to provide for his family. He worked at the University of Wyoming and especially enjoyed the brotherhood of the plumbing shop and his time mowing grass on the U.W. campus. He was recognized and respected as well in the many part time jobs he held. Bob had a love of hunting, fishing, his Wyoming Cowboys and professional sports. Some of his favorite memories were the Cubbies winning the 2016 World Series, family parties in the gazebo, retelling family stories, breakfast with the gang at Perkins, and his home full of good times with family and friends.
This proud-to-be-American was preceded in death by his wife of 65 years Beverly (Sawyer), his grandmother Maggie Reese, his childhood father-figure Julian Choate, his parents John Reese and Margaret Sandahl, a sister Dorothy Matz and a granddaughter Jennifer Jean Marr.
He is survived by daughters Pamela (Douglas) Marr of Augusta, Kansas, Cindy (Gene) Atencio of Laramie, Wyoming, Susan (Kim) Wilkinson of McDermott, Nevada, Tamara (John) Hilim of Rawlins, Wyoming, and Rebecca (Tom) Peacock of Morrill, Nebraska, 16 grandchildren and 25 great grandchildren.
Visitation will be held from 4-6 p.m. Thursday, April 20, 2017 at Montgomery-Stryker Funeral Home.
A celebration of Robert's life will be at 1:30 p.m. Friday, April 21, 2017 at St. Matthew's Episcopal Cathedral with the Very Reverend Stephen Askew, officiating. Inurment will follow at the St. Matthew's Cathedral Columbarium with military honors by the Wyoming National Guard and the Laramie Veteran's Honor Guard.
Memorial contributions may be made to the Veterans of Foreign War and/or Rocky Mountain Elk Foundation, https://jrd.rmef.org/howtohelp/donate