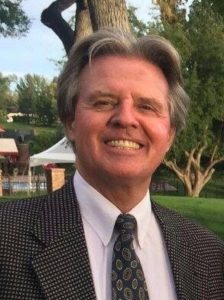 Max R. Lawton was born August 7, 1950 in Laramie Wyoming and died October 12, 2016 in Lakewood Colorado. His parents were Lyle and Milly Lawton.  Lyle worked for the Union Pacific Railroad; Milly. for the Forest Service.  Max and his older brother, Bruce were raised in the living quarters of the rail depot in tiny Medicine Bow, Wyoming.  Because of his father's position with the railroad, the family was able to travel extensively throughout the United States by rail pass.  While he was growing up, the family was very active in skating, fishing, biking, baseball and especially basketball. He delivered papers which helped him start saving for his schooling in college.   Max enjoyed working for Ab Irene on a large cattle ranch south of Medicine Bow in the summers. He was particularly proud to be named MVP when the Medicine Bow Wranglers won the Wyoming Class C Basketball Championship in 1968. 
He cherished the brotherhood and the life-long friends he gained by joining the Sigma Alpha Epsilon (SAE) fraternity at the University of Wyoming where he earned a BS in Civil Engineering with an architectural option in 1973.  He worked in Houston for Walter Moore and Assoc. the architectural firm that designed the Astro Dome.  He returned to UW and earned his Master's Degree in Industrial Management in 1977. 
He met his first wife, Gwen Hoffman, at UW; they settled in Denver and had two sons, Eric now 27 and Chris now 24.  Max's second marriage to Amy Provencio, blessed him with another son, Cody now 17, as well as his step daughter, Natalie now 21.  
Max was a genuine, dedicated employee of 35 years in the coal, oil, and gas industry, with Tallgrass Energy Partners and predecessor companies Kinder Morgan and KN Energy. He most recently served as the Director – Business Development, Pony Express for Tallgrass. 
Max was a very happy-go-lucky guy all his life up until the end.  He was very friendly, treated people kindly and got along with everyone. His friendships were long term. 
Max's greatest joy was his family, especially his children that he loved very dearly. He was insistent that they all receive an upper level education just as his parents had insisted with both he and his brother.  He and his brother Bruce were extremely close his entire life. 
We know how happy he is to be with his father again.  
A funeral service will be held 10:30 a.m. Saturday, October 22 at the First United Methodist Church with The Very Reverend Marilyn Engstrom, celebrant. Visitation will be 9:00 a.m. to service time. Burial will follow at Greenhill Cemetery.