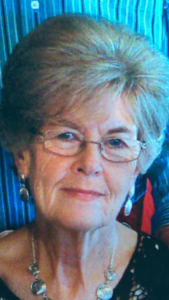 Mary Kathleen (Kathy) Southards, 73, passed away peacefully surrounded by her family June 27, 2016, at the University of Colorado Medical Center in Aurora, Colorado, after a lengthy illness.
She was born September 5, 1942 in Cheyenne to Jack and Agnes (nee Smith) Ruch.  She attended St. Laurence O'Toole Catholic School and graduated from Laramie High School in 1960.
In 1962 she married Joe Southards in Laramie at St. Laurence O'Toole Catholic Church.  After they were married, they made their home on various ranches throughout Colorado, Wyoming, and Nebraska, until finally settling in Laramie in 1976 when Joe was employed by the University of Wyoming Stock Farm.  Kathy was employed by Albany County School District No. 1 as the head baker at Elementary Central Kitchen for 33 years.
As a lifelong parishioner of St. Laurence O'Toole parish, she was an active member of St. Cecilia's Alter and Rosary Group.  She was also a member of the auxiliary group with the University of Wyoming Stock Farm known as the Farmerette's for many years.
Following her retirement in 2009, Kathy stayed busy by reading, using her iPad, and traveling to her grandchildren's sporting events with her husband.  She especially enjoyed having coffee with the "Wednesday Afternoon Grandma's Club".   Kathy's family was the joy of her life.  She spent many hours capturing cherished memories with her disposable cameras.
Kathy was preceded in death by her parents; her sister Beverly (Ruch) Southards; and a brother Billy Ruch.  In addition to her husband of 54 years she is survived by two daughters, Katy Hudson (Dave Walsh) of Laramie; Suzie Kline (Kevin) of Gillette; two grandchildren, Kaycee and Kody Kline. She is also survived by her sister Jo Ellen Williams (Dave) of Cheyenne; her brother-in-law Glenn Southards (Peggy) of Seminoe, WY; her life-long dear friend Sandra Aguilar, of Salem, OR; as well as numerous nieces and nephews.
Memorial contributions may be made to the charity of the donor's choice.
Vigil and Rosary service will be held Thursday, June 30 at 5:30 p.m. at St. Laurence O'Toole Catholic Church.
Funeral liturgy will be at 10:00 a.m. on Friday, July 1 at St. Laurence O'Toole Catholic Church with Father Dave Erickson, celebrant. Interment will follow at Greenhill Cemetery.