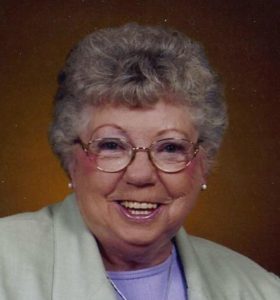 Margaret Ann Pickett, 86, of Laramie, passed away Sunday, June 19, 2016 at the home of her daughter with her family by her side.
Margaret was born October 30, 1929 in Laramie to C E "Doc" Roberts and Anna J (McDonald) Roberts.  She graduated from Laramie High School in 1947.  On August 20, 1951 she married Donald D. "Scotty" Pickett in Laramie.  They often times laughed when they went to get their marriage license, the clerk asked Scotty for his name. He said "Donald D. Pickett".  She said she looked around to see who that person was.. not knowing his real name was Donald, and not "Scotty"  Together they raised four children, Alan, Marcia, Ricky and Debbie.
While raising her family, she managed to work full time, first at Montgomery Ward as a bookkeeper, then First National Bank (now First Interstate Bank) as a proof operator and lastly for the now defunct Gibsons.  She eventually retired and when Scotty retired in 1987 from the US Post Office they began traveling..many times to Illinois to see Alan and family and other times to New Hampshire and eventually to Arizona to see Marcia and family.  She was a great journalist.  She journaled every trip they took including restaurants they visited.
While working and raising children, she still managed to develop a talent for ceramics She made wonderful ceramics for all of her children as well as friends and relatives.  Alan has several really special pieces in his home, including a family of ducks hanging on their wall giving them a reminder daily of her ceramic ability.  There is a wrestler to commemorate his success as a Laramie High School wrestler and a beautiful wedding plate to honor his marriage to Pam. Mom made Marcia and Debbie each an 18 piece Nativity set which they lovingly display during Christmas.  They also have wonderful pieces of yard art and bowling gals.
Margaret held several offices as a member of the Women of the Moose and received her Academy of Friendship Degree in 1994.
She loved her grandchildren and great grandchildren and was very proud of all their accomplishments.
She is survived by son, Alan (Pam) Pickett of Manteno, Il, daughters, Marcia (Frank) Gaudioso of Sun Lakes, AZ, Debbie (Bob Peterson) Pickett of Laramie; grandchildren, Nicole Pickett, Gretchen Bladek, Tammy Peters, Scott (Josie) Pickett, Jeanne (Jason) Skube, Criag Pickett, Kayci Pickett, April Pickett, Kevin Pickett, Deanne (Bill) Hammond, Frank Jr. (Amie) Gaudioso, and numerous nephews and nieces. Also surviving great-grandchildren, Jaiden Peters, Molly Peters, Theo Pickett, Isla Perez, Michael Hammond, Ariana Gaudioso, Tiana Gaudioso, and Giovanni Gaudioso.
She was preceded in death by her parents, her husband, Scotty, May 15, 2016, son Richard, sister Rosemary McCabe, and half-brother, James Fitzgibbons.
Funeral services will be held 9:00 a.m. Saturday, June 25, 2016 at Montgomery-Stryker Funeral Home with Debra Juarez, officiating. Interment will follow at Greenhill Cemetery. Visitation will begin at 8:00 a.m Saturday until service time.
Memorials may be made to Hospice of Laramie, 710 Garfield St. Suite #339 Laramie, WY 82070, for their wonderful care and compassion in taking care of both Margaret and Scotty.
Since Scotty's passing on May 15th, she has been sad, missing him terribly. It is with thanks to God that she has gone to be with him and Ricky.