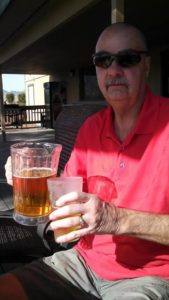 Joseph Harvey Rottman, 66, of Laramie passed away on March 27, 2017 in Las Vegas, NV with his family by his side. He was born November 30, 1950 in Laramie to Clarence and Erma (Nielsen) Rottman.
Joe grew up in Laramie, graduating from Laramie High in 1969.  Just after graduation, he was hired on with the UPRR and in 1970 he enlisted in the U.S. Navy, where he served on the USS New Orleans, stationed in San Diego. Joe received an honorable discharge in February 1974, resuming his career with the UPRR where he worked as a conductor/brakeman for 42 years.  Joe retired in 2010 with the distinction of being the oldest brakeman in his district.
Joe married Gunta Hvastkovs in December 1977, this year would have marked their 40th wedding anniversary.  Daughter Heather was born in May 1980. The family shared a love of camping and snowmobiling.  Joe loved the mountains, spending time at the family cabin at Gramm, fishing at Lake Hattie and Nine Mile, and especially enjoyed a round of golf with friends and family.  In 2011, a 3 month, 9000 mile trip to Alaska was marked off the Bucket List.  The past 4 winters were spent in Fort Mohave, AZ, enjoying a reprieve from snow shoveling!
Joe was a proud veteran.  He was a life member of both the VFW #2221 and Elks Lodge #582 and a member of the American Legion #14.  Joe was a lifelong member of Trinity Lutheran Church.
He was preceded in death by his parents.
Joe is survived by his wife, Gunta, daughter Heather Tupper (Keith), brother Bob (Linda) Rottman, numerous cousins, dear friends and family members.
Graveside services will be held at Greehill Cemetary on Saturday, June 3rd at 11am with Military Rites.  A celebration of life will follow at the Laramie Elks.
Memorial Contributions can be made to the Laramie Elks #582 Charities in Memory of Joe Rottman, PO Box 1226, Laramie, WY 82073.
Joe was happiest in the warm sunshine playing golf or fishing, please join us in celebrating his life in your favorite golf (or outdoor) attire.