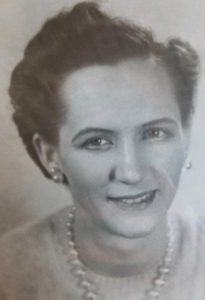 Jean Louise Hager
​Jean Louise Hager, the daughter of Ward W. and Marian Mowry Husted, was born in St. Joseph Missouri on January 23, 1920.   She passed away at Ivinson Memorial Hospital on March 22, 2020.    After the death of her Mother, she and her sister, Janet, joined their Father and Stepmother, Virginia Durlacher Colt Husted in Laramie, Wyoming, graduating from Laramie High School in 1937.   She was employed by Charles Stebner, local Dentist for several years before leaving to accept a Civil Service Position with the Federal Government during World War II at Wright-Patterson Air Force Base in Dayton, Ohio later transferring to Cahokia, Illinois where she remained until her retirement in 1984.  After her retirement she returned to Laramie to be with her Father and enjoy many community activities, including several quilting groups, and travelling the world with many friends.
​Jean was a life member of the American Legion Auxiliary Post # 14 of which was named for her father, Ward W. Husted, who was a National Vice Commander of the American Legion.  She was also a lifelong member of the Society of Mayflower Descendants of America in the State of Wyoming.   Jean spent many years in the Sweet Adeline's of America, participating in National Competition and receiving many awards.  She was also a benefactor of the Laramie Plains Museum and the Eppson Center for Seniors.
​On January 23, 2020, she was royally entertained by the Laramie community on her 100th Birthday at Spring Wind Assisted Living Facility.
​She is survived by a niece, Lesley Manring-Borchers,  great-nephew, Anton Borchers and his son Cristian, of Wheat Ridge, Colorado, extended family, Sharon Strebin, Troutdale, Oregon and her sister, Judi Sacosky of Connelly Springs, North Carolina, along with many Laramie friends, including Connie Palmer and Germaine St. John.
​A Memorial will be decided at a later date.